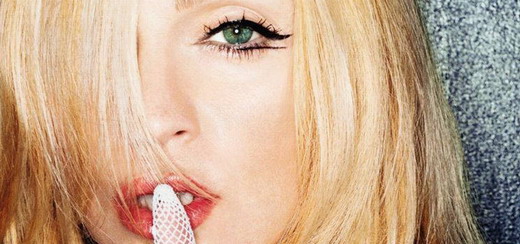 Insiders Come to Madonna's Defense
After a Toronto newspaper reported that eight volunteers were asked to "turn their faces to the wall" Monday afternoon as Madonna headed into a press event for her movie, "W.E.", The Toronto Star publishes a few testimony from inside people who denied the whole story.
Conference moderator Richard Crouse, film critic for CTV's Canada AM said…
"I was backstage for the entire time, and I was waiting for her, and I was looking down the hall when she came in.
She did not have a 14-person entourage, as people have reported.
And she was friendly to everybody; there was none of this 'turn your back, don't look her in the eye'.
*She (posed for) photographs, she signed autographs.
I think this whole thing is a fabrication."
Charlene Coy, publicity director for "Entertainment One Canada" was with Madonna and said…
"I saw no evidence volunteers were asked to look away before or after the news conference.
Madonna was completely gracious."
Abel Korzeniowski Talks Madonna
Music Composer Abel Korzeniowski created the music Madonna's W.E., and found working with her an enlightening experience.
He explained…
"Madonna told me to not over-think the music.
I found myself learning very interesting things from her about music, which helped me in my classical thinking."
Fashion Designer Valentino on Madonna's W.E.
Italian fashion designer Valentino disagrees with how some critics at the Venice Film Festival, have ripped W.E. apart.
He says…
"I enjoyed a few days of excitement in Venice for the Film Festival.
Madonna's movie was superb!"
Madonna Needed Permission From Al-Fayed
When asked if Mohammed Al-Fayed was aware of his name being mentionned in W.E., Madonna answered to the National Post…
"Of course he knows.
I had to get his permission!"
Abbie Cornish Talks Madonna and W.E.
Australian actress Abbie Cornish was spotted at the Tommy Hilfiger fashion show during New York's Fashion Week.
NY Mag asked her which was more pressure, sitting in the front row at Fashion Week or showing up to work Madonna…
"Definitely working for Madonna. Though it was amazing.
"There's pros and cons to Madonna directing a film in regards to criticism, but, yeah, I think she's made a really good film, and I'm really proud of it."
Madonna's W.E. Will Make An Impact At The London Film Festival
London Film Festival artistic director Sandra Hebron has said that Madonna's W.E. will make an impact at next month's film event…
She told Digital Spy…
"I think the Madonna film, obviously, because it's directed by Madonna.
It's also about a very significant piece of British history that now, thanks to The King's Speech, is much more familiar to people."
The Real "Tenten" Talks Madonna & "W.E."
One of the characters in Madonna's new film, "W.E.", is based on fashion's own Tenten Wu, Belvedere Vodka's global director of PR & Media!
Tenten talked about the movie for fashionweekdaily…
"There are two tiers to the film—the contemporary one, based around the 1998 Sotheby's auction of the Duke and Duchess of Windsor's estate, and the historical one, based on their actual lives. The 'Tenten' character is a Sotheby's staffer and the best friend of the contemporary heroine Wally, played by Abbie Cornish.
I received an email from Madonna asking for my permission to use my name in the film. She also told me 'Tenten' is a positive, clever, no bullshit character, and that she cast a very attractive Chinese-English actress. Needless to say, I replied 'YES'.
I met Madonna at the Mandarin Oriental bar to discuss my experience at Sotheby's. She and her co-screenwriter Alek Keshishian did all the primary research themselves! We met again a recent screening of "W.E.". Afterwards, Alek and I were invited to her house for a drink, and we all ended up making dinner in her kitchen: a veggie omelet, green salad and red wine.
I thought it (the film) was very good. I spent so much time at the Duke and Duchess' house, looking through pictures and property, but I never really sympathized with them. The film brings to life a more fully formed portrait."
Berlusconi Loyalists Feel Irritated By Madonna
Madonna has weighed into the Italian political fray by launching a stinging attack on Prime Minister Silvio Berlusconi.
She said to Oggi Magazine…
"What do I think about Berlusconi?
I wouldn't like to talk about it now. But 'The Economist' already said everything, didn't it? [referring to the publication's June 9th, 2011 cover in which a picture of grinning Mr Berlusconi accompanied the headline 'The Man Who Screwed An Entire Country']
I think Berlusconi is unsuited to govern Italy."
Undersecretary in the Prime Minister's office Carlo Giovanardi answered by attacking Madonna's support of homosexual causes…
PdL party politician, Daniela Santanche, said the star had "insulted millions of Italians".
Another PdL MP, former pop star Gabriella Carlucci, suggested that Madonna had employed a "communist press office."
Human Right's Groups Feel Irritated By Madonna
Human right's groups are irritated with Madonna's choice to thank Nazi sympathizers, John Galliano and Leni Riefenstahl, in the credits of her film W.E.
According to The Daily, Abraham Foxman, the national director of The Anti-Defamation League said they were surprised with the lack of sensitivity by Madonna or her people…
"The fact that she practices Kabbalah, or whatever, does not make her an instant expert on history, Jewish history, or sensitivity.
She should simply remove the offending names from the credits to correct the problem."
Two More Madonna Children's Books For The Portuguese Market
Two more books from The English Roses collection by Madonna, are going to hit the Portuguese market this coming Saturday:
"A Perfect Pair" ("Um Par Perfeito") and "Runway Rose" ("Uma Rosa Na Passarela") are the latest stories written by Madonna for children over 8 years.
Michael Moore Mentions Madonna
Filmmaker and author Michael Moore recently spoke to USA Today, about his most "Midwestern" quality and mentions Madonna in the process…
"In the Midwest, there is immense creativity that comes from rebelling against a homogenous society.
Just look at all the music in Detroit, from Iggy Pop to Madonna to Motown."
Hindus Urge Madonna To Create More Sanskrit Numbers
President of the Universal Society of Hinduism, Hindu statesman Rajan Zed recently urged Madonna to chant more Sanskrit peace mantras in her future albums…
"The World needs more peace prayers and efforts at peacemaking now than it needed in 1998.
The 'Shanti/Ashtangi' (Ray of Light Album) Sanskrit number whose lyrics included 'Om Shanti', mainly focused around peace.
Her 'Cyber-Raga' (Music Album) track was also an adapted version of a Sanskrit peace prayer and included a variation of 'Hari Om' mantra.
'Om', the mystical syllable containing the universe, is used in Hinduism to introduce and conclude religious work. 'Shanti' means peace and 'Hari' is 'Lord Vishnu'.
Sanskrit is a storehouse of peace prayers, which needed to be explored further by popular culture in order to bring about peace to the troubled world,
I wish her the best on entering her 54th year."
Bootleg Records By Madonna Seized In Birmingham Warehouse
Bootleg copies of rare vinyl records by artists such as Madonna, worth more than £40,000 have been seized from a Birmingham warehouse.
More than 4,000 fake records were stockpiled at a central Birmingham warehouse ready to be sold to eager fans and collectors after being advertised as "rare". The records are advertised at prices up to £99.
A bootleg recording is an audio or video recording of a performance which is not officially authorised by the artist or copyright holder. Possession and sale of illicit vinyl is a criminal offence under "The Copyrights, Designs and Patents Act 1988" and can carry sentences of up to ten years in prison.
Kelly Osbourne Had To Put Blinders On During "Material Girl" Photoshoot
As the face of the Material Girl clothing line from Madonna and Lola, Kelly Osbourne has taken part in two photo shoots for the collection, but she said they were awkward experiences…
"I had to put blinders on and go, 'OK, this is my job. I'm just going to do this. The quicker I do it, the quicker it will be done',
People were following me and taking pictures of me as I swung around light posts and walked in 'Time Square' like I'm on a runway.
It was weird because I'd never done a modeling photo shoot before and didn't know what to do with myself in the first hour. … We shot at a bar in New York, and there were people there drinking at 10 in the morning while I'm standing on the bar posing. This one guy with no teeth told me 'I like your legs'.
I loved it. It kind of broke the ice and made me feel more comfortable."
Madonna's Material Girl Collection Is Very Relevant To The Junior Market
Fashion stylist Juliana Schiavinatto (P1M.ca) talks about Madonna's fashion line…
"As a stylist, I believe that celebrity lines will remain popular, as long as they stay relevant to those they're trying to appeal to. From the parts I've seen, I think that Madonna's Material Girl collection is very relevant to the junior market and that their spokesperson Kelly Osbourne speaks well to this."
Lola On No.15 On Instyle's Hot 100 Power List
Madonna's 15-year-old daughter Lourdes Leon was dubbed the 15th most influential young star on "InStyle"'s annual "Hot 100 Power List".
The poll claims to predict who will still be in the news in ten years' time.

Madame X is available in Box Set, CD, Vinyl and Cassette!
Get your copy HERE!