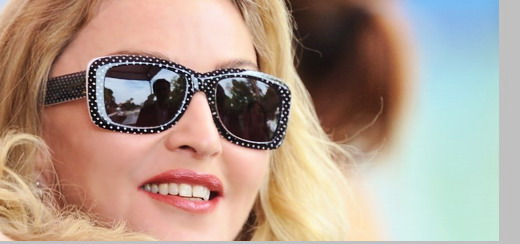 Madonna thanked her ex-husbands – Sean Penn and Guy Ritchie – for encouraging her to take up a career in movies, as she arrived in Venice on Thursday for the world premiere of her lavish royal drama "W.E."
W.E., her second feature film, appears at the Venice film festival outside the main competition, but the presence of one of the world's biggest celebrities inevitably dominated the attention of the world's press.
There was applause for the movie after the first screening.
A few excerpts from W.E.'s press conference…
Thanking her ex-husbands…
"I am and was attracted to very creative people which is why I married Sean Penn and Guy Ritchie, two very talented directors.
They both encouraged me as a director and as a creative person to do what I did, and they were both very supportive."
Identifying with Wallis Simpson…
"I identified with her [Wallis] in that I think it's very common when people become celebrities or public figures or icons that we are often reduced to a soundbite and that you're given a few attributes and then you're not allowed to have anything more than that.
I did go through periods of feeling like I was an outsider when I first moved to England.
I certainly didn't feel like that by the time I'd lived there for 10 years. And I feel, since I moved there, that I feel very welcomed by England."
Talking about the love story…
"I was deeply and utterly swept up in trying to understand the reason that this man, King Edward VIII … would relinquish this great position of power for love.
When you make a film, you have to have strength of mind and karma and soul.
It was a really big project for me to take on."
On the success of "The King's Speech…
"I was a little bit nervous, because I thought, 'oh dear, if someone else is making a movie about the same time-frame, then who would be interested in my movie?'
But then I saw the film and I saw that it was from a completely different point of view and I view the success of that film as sort of laying the groundwork for my movie.
So there is a little bit of history and a little bit of knowledge and we are not starting with a blank slate."
Would Madonna give up her throne for a man or woman?
"I'd give it up for both, or all three." (Laughter, cheers)
Venice Critics Slap and Slam Madonna's 'W.E.' With Mild to Rather Harsh Reviews…
The Hollywood Reporter: An odd, idiosyncratic piece
The Telegraph: A Bold and Confident Story
The Guardian: A primped and simpering folly, preening and fatally mishandled
Indiewire (The playlist): W.E. is a Royal Disaster

Madame X is available in Box Set, CD, Vinyl and Cassette!
Get your copy HERE!