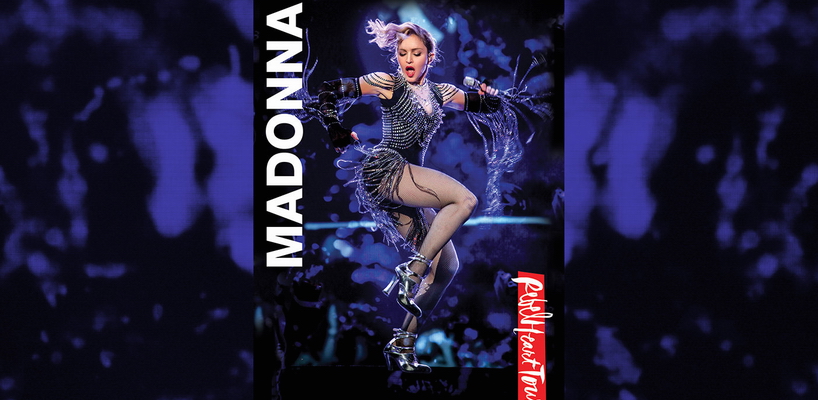 Update: Take a Bow included on JP version
The Japanese version has an extra track on the Blu-Ray and DVD: Take a Bow!!
Pre-order here:
Rebel Heart Tour – Blu Ray – Japanese version with Take a Bow
Rebel Heart Tour – DVD – Japanese version with Take a Bow
Amazon pre-order links:
Rebel Heart Tour Blu-Ray + CD
Rebel Heart Tour 2 CD
—
The original article continues below:
To celebrate Madonna's birthday, the Rebel Heart Tour is now available for pre-order!
Check out the tracklisting to each of the formats to be released on September 16!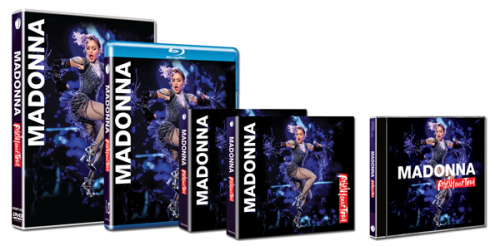 Click here to pre-order your copy or visit Madonna's official store now for exclusive t-shirt + DVD or Blu-Ray bundles and a fan club only t-shirt design!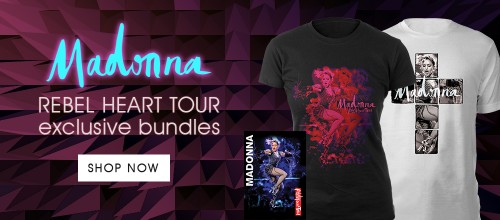 DVD+CD / BLU RAY + CD

DVD / Blu-Ray
01. Rebel Heart Tour Intro
02. Iconic
03. Bitch I'm Madonna
04. Burning Up
05. Holy Water / Vogue
06. Devil Pray
07. Messiah (Video Interlude)
08. Body Shop
09. True Blue
10. Deeper and Deeper
11. HeartBreakCity
12. Like A Virgin
13. S.E.X. (Video Interlude)
14. Living For Love
15. La Isla Bonita
16. Dress You Up / Into The Groove
17. Rebel Heart
18. Illuminati (Video Interlude)
19. Music
20. Candy Shop
21. Material Girl
22. La Vie En Rose
23. Unapologetic Bitch
24. Holiday

EXTRAS
01. An Excerpt from "Tears Of A Clown"
02. Like A Prayer

CD
01. Rebel Heart Tour Intro
02. Iconic
03. Bitch I'm Madonna
04. Burning Up
05. Holy Water / Vogue
06. Devil Pray
07. Deeper and Deeper
08. HeartBreakCity
09. Living For Love
10. La Isla Bonita
11. Rebel Heart
12. Candy Shop
13. Unapologetic Bitch
14. Holiday

DOUBLE CD / DIGITAL AUDIO

CD1
01. Rebel Heart Tour Intro
02. Iconic
03. Bitch I'm Madonna
04. Burning Up
05. Holy Water / Vogue
06. Devil Pray
07. Body Shop
08. True Blue
09. Deeper and Deeper
10. HeartBreakCity
11. Like A Virgin

CD2
01. Living For Love
02. La Isla Bonita
03. Dress You Up / Into The Groove
04. Rebel Heart
05. Music
06. Candy Shop
07. Material Girl
08. La Vie En Rose
09. Unapologetic Bitch
10. Holiday
11. BONUS TRACK: Like A Prayer
comments powered by

Disqus