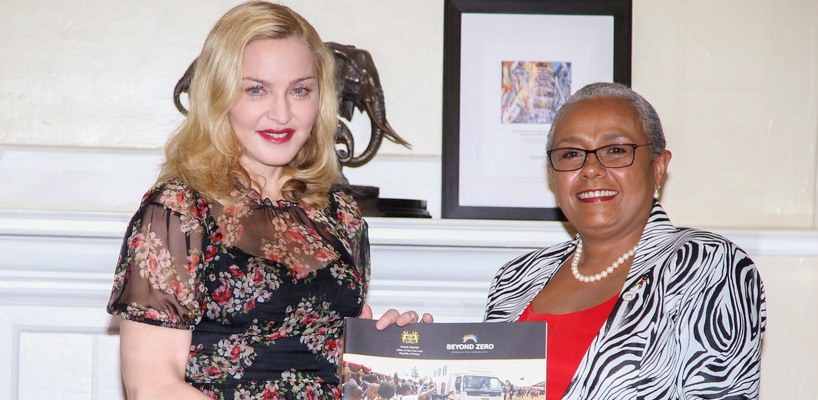 NAIROBI, 4 July, 2016 (PSCU)— Pop Icon and Global Philanthropist Madonna Ciccone is ready to partner with the First Lady's Beyond Zero initiative.
Madonna, one of the most influential women in contemporary music said her foundations, managed by the Global Philanthropy Group, will work with Beyond Zero in scaling-up maternal and child health programs as well as initiatives against gender violence.
Speaking at State House, Nairobi, when her group met with the First Lady and her Beyond Zero team, Madonna pointed out that both the First Lady and herself have a common agenda in protecting women and children.
Madonna is in the country to explore practical programs that have a transformative impact on vulnerable groups, especially women and children.
Madonna is the founder of several charities and foundations globally, including the internationally renowned 'Ray of Hope Foundation'. In Africa, she is known for the Raising Malawi organization – a non-governmental organization that supports vulnerable children.
Madonna described the Beyond Zero initiative as an amazing movement and a natural partner for advocacy, to break the code of silence around gender-based violence through education and awareness building.
She commended the First Lady's leadership role and capacity to drive social change and scaling-up accessibility and equity in health matters.
Madonna gave a moving story of resilience and courage from Mama Sofie whom she met in Kibera and who has overcome many odds while raising 14 children in a 10 by 10 foot room.
Madonna delivered a special message and personal greeting to the First Lady from Mama Sofie.
The First Lady acknowledged Madonna's great social work globally and invited the opportunity for collaboration with the Beyond Zero initiative.
The First Lady shared emerging information that besides offering health care services, the mobile clinics that she has been distributing across the counties have now added another safe space for victims to report gender related violence.
Once reported, the health workers assist in escalating the information to the relevant Authorities.
Madonna's pledge to work with the First Lady's Beyond Zero initiative comes only a few days after Melinda Gates, the co-chair of the Bill and Melinda Gates Foundation expressed similar interest to partner with the Beyond Zero initiative, to ensure access of quality health for Kenyan women and children.
Madonna is recognized globally for her efforts aimed at addressing poverty and health issues across many countries where she supports several charities, foundations and other programs.
As an entrepreneur and a recording Artist, Madonna is one of the most successful solo artists in the history.

Madame X is available in Box Set, CD, Vinyl and Cassette!
Get your copy HERE!
comments powered by

Disqus