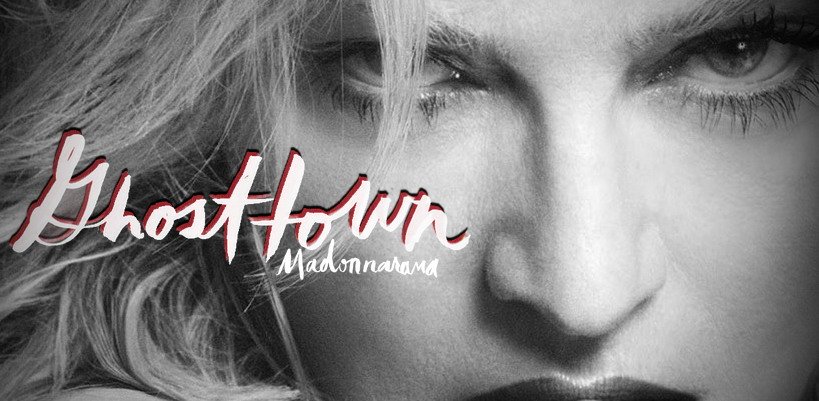 Update #2:
As 2015 comes to an end, Rolling Stone asked their readers to vote for their favorite songs of the year.
The results…
1. Madonna – Ghosttown
Even in a great year for pop music, Madonna is still the queen. The power ballad off her March album Rebel Heart was a more classic pop turn for the singer after the house hit "Living for Love" and trap digression of "Bitch I'm Madonna." On the massive, romantic track, the singer tackles both world issues and a reflection of self. Even though the single didn't crack the Billboard Hot 100, it still topped the dance charts and showcased one of the singer's strongest vocal performances.

2. Adam Lambert – Ghost Town
3. Adele – Hello
4. Ghost – He Is
5. Courtney Barnett – Pedestrian at Best
6. Cold War Kids – First
7. Tame Impala – Let It Happen
8. Built to Spill – When I'm Blind
9. Alabama Shakes – Don't Wanna Fight
10 Drake – Hotline Bling
—
Update #1:
Madonnna came in 16th on Rolling Stone's "50 Best Songs of 2015" list…
An indomitable power ballad for a ruined world that sounds so great you might start rooting for the apocalypse.
—
The official Ghosttown EP is already available on iTunes US and FR.
Tracklisting…
01 – Ghosttown (Offer Nissim Drama Remix) – 07:17
02 – Ghosttown (Armand Van Helden Remix) – 06:16
03 – Ghosttown (S-Man Mix) – 06:08
04 – Ghosttown (Razor N Guido Remix) – 07:46
05 – Ghosttown (Mindskap Remix) – 05:35
06 – Ghosttown (Don Diablo Remix) – 04:47
07 – Ghosttown (Dirty Pop Intro Remix) – 05:20
08 – Ghosttown (DJ Mike Cruz Mix Show Edit) – 07:05
09 – Ghosttown (THRILL Remix) – 06:27
10 – Ghosttown (DJ Yiannis String Intro Mix) – 01:40
—
Update: Five new remixes added
New Ghosttown remixes have been released on Madonna's official YouTube channel…
Madonna – Ghosttown (Offer Nissim Mix)
Madonna – Ghosttown (Offer Nissim Drama Mix)
Madonna – Ghosttown (Mindskap Remix)
Madonna – Ghosttown (Armand Van Helden Remix)
Madonna – Ghosttown (Armand Van Helden Instrumental)
comments powered by

Disqus