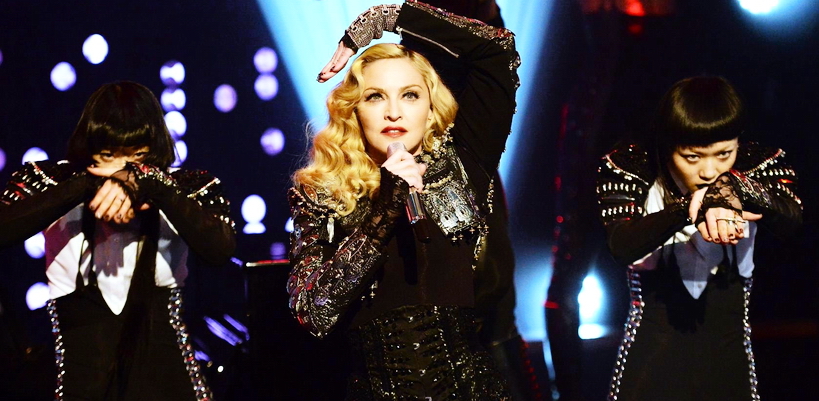 Update: Full show added
—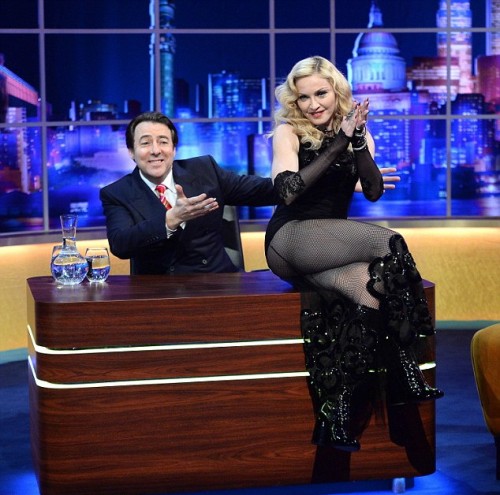 —
The original article continues below:
Today Madonna's appearance on The Jonathan Ross Show, which will be broadcasted on ITV on March 14th, was taped.
Madonna performed a Living For Love remix and Ghosttown!
The tour which is scheduled to kick off later this year in North America, will finish in February 2016. Madonna then plans on taking a break and start directing her next movie after the summer.
Here's what she had to say about the BRIT awards…
I'm a creature of habit I rehearse everything, everything, everything.
I was thrown a wrench at the beginning of the performance. I was told to tie my cape and start much further back and I had to walk further and everyone was worried my cape was slide off so they tied it really tight around my neck.

So here I am marching in like the queen, I got to the top of the stairs and I pulled the silky string and it wouldn't come undone.
My two lovely Japanese dancers they basically strangled me off the stage. I had two choices, I could either be strangled or fall, and I chose to fall.

I don't want to see it, don't make me watch."
It was a nightmare, I like to be amazing, I rehearse and rehearse so when I do a show it is effortless and I create magic. I did the opposite, I actually created a horror show for everyone.

I'm never writing lyrics like that again the universe was trying to teach me a lesson.

I didn't hurt my butt but I hurt my head.
I know how to fall, I have fallen off my horse many times.

I had little bit of whiplash, I smacked the back of my head. And I had a man standing over me with a flashlight until about 3am to make sure I was compos mentis.

I am always nervous of live TV, when you singing you can't make any mistakes, the worst thing is you fall down stairs. I like to make my shows dangerous but then there is danger.

No more capes, cape fear is over.

Madame X is available in Box Set, CD, Vinyl and Cassette!
Get your copy HERE!
comments powered by

Disqus