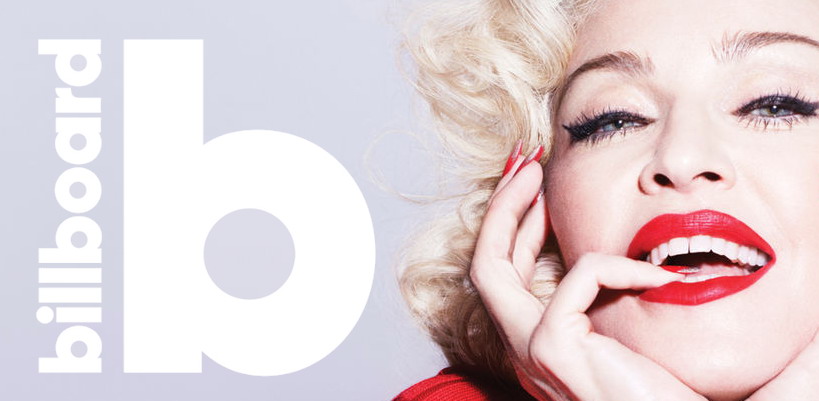 Madonna makes Billboard chart history, as she earns her 44th No. 1 on Dance Club Songs, where "Living for Love" lifts 2-1. (The ranking, dated March 7, will refresh on Billboard.com on Thursday, Feb. 26.)
With the coronation, Madonna equals George Strait, who's logged 44 No. 1s on Hot Country Songs, for the most leaders ever by an act on a singular Billboard chart.
It's fitting history for the artists also known, respectively, and reverently, as the Queen of Pop and the King of Country.
With her 44th leading title on Dance Club Songs, which measures reports submitted by a national sample of club DJs, Madonna pulls further ahead of runners-up Beyonce and Rihanna. In fact, Madonna has tallied as many No. 1s as they have combined: 22 each. (The chart launched as a national survey in the Billboard issue dated Aug. 28, 1976.)
Here is an updated look at Madonna's 44 Dance Club Songs No. 1s, beginning with the double-sided single "Holiday"/"Lucky Star," which reached the top the week of Sept. 24, 1983. You'll notice that one of her No. 1s is an entire album: You Can Dance (1988), a collection of mostly remixes of previously released songs (and one new cut, "Spotlight"). Prior to Feb. 23, 1991, the chart wasn't always song-specific and full albums were, at some points, allowed to chart.
(For titles that spent multiple weeks at No. 1, total frames in the lead are noted in parentheses.)
1983, "Holiday"/"Lucky Star" (five weeks at No. 1)
1984, "Like a Virgin" (three)
1985, "Material Girl"
1985, "Angel"/"Into the Groove"
1987, "Open Your Heart"
1987, "Causing a Commotion (Remix)"
1988, You Can Dance (LP Cuts)
1989, "Like a Prayer" (two)
1989, "Express Yourself" (three)
1990, "Keep It Together"
1990, "Vogue" (two)
1991, "Justify My Love" (two)
1992, "Erotica"
1993, "Deeper and Deeper"
1993, "Fever"
1994, "Secret" (two)
1995, "Bedtime Story"
1997, "Don't Cry for Me Argentina"
1998, "Frozen" (two)
1998, "Ray of Light" (four)
1999, "Nothing Really Matters" (two)
1999, "Beautiful Stranger" (two)
2000, "American Pie"
2000, "Music" (five)
2001, "Don't Tell Me"
2001, "What It Feels Like for a Girl"
2001, "Impressive Instant" (two)
2002, "Die Another Day" (two)
2003, "American Life"
2003, "Hollywood"
2003, "Me Against the Music," Britney Spears featuring Madonna (two)
2004, "Nothing Fails"
2004, "Love Profusion"
2005, "Hung Up" (four)
2006, "Sorry" (two)
2006, "Get Together"
2006, "Jump" (two)
2008, "4 Minutes," Madonna featuring Justin Timberlake & Timbaland (two)
2008, "Give It 2 Me"
2009, "Celebration"
2012, "Give Me All Your Luvin'," Madonna featuring Nicki Minaj & M.I.A.
2012, "Girl Gone Wild"
2012, "Turn Up the Radio"
2015, "Living for Love"
comments powered by

Disqus