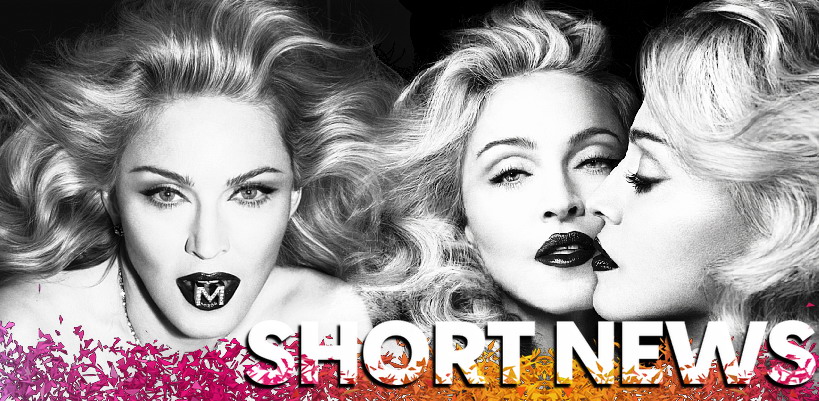 Justin Timberlake calls Madonna his "mother chucking ninja"
Justin Timberlake received a huge backlash on Twitter, because his birthday message for Madonna contained the word "ninja", a substitute for the word "nigga".
He quickly removed the tweet afterwards…
@jtimberlake: A HAPPIEST of Bdays to my mother chucking ninja, @Madonna!! Hope you have a great one, M!
Are people just overreacting or not?
Rita Ora wants to raid Madonna's closet
When asked who she'd like to swap wardrobes with, Rita Ora told People magazine…
Madonna. She'd have amazing clothes in there. Or Freddie Mercury would be fun.
Largest collection of Madonna memorabilia to be auctioned
Julien's Auctions, the world's premier entertainment and music memorabilia auction house, has announced the rare opportunity to bid on the largest collection of Madonna memorabilia from her personal and professional life ever to be offered at auction. The carefully curated collection will be offered during the Icons & Idols: Rock 'n Roll auction in Beverly Hills in November.
The list includes…
– Marilyn Monroe inspired dress, stole and jewelry worn in her "Material Girl" video (dress and stole estimate: $20,000-40,000)
– over thirty of Madonna's period clothing pieces from Evita along with accessories and jewelry from the film (Various estimates: $800-6,000)
– costumes from A League of Their Own (Estimate: $3,000-5,000)
– costumes from The Next Best Thing (Estimate: $3,000-5,000)
– costumes from the "Music" music video (Estimates ranging from $2,000–$6,000)
– costumes from the video for "American Pie" ($1,000-5,000)
– latex mask, waspie, gloves, bra and panties worn with Katy Perry for a 2014 V Magazine cover photo shoot (Estimate: $1,000-4,000)
– the vintage costume pieces worn for Madonna's sexy Re-Invention publicity materials
– Negatives and prints from the 1985 Penthouse photoshoot
– …
More at www.juliensauctions.com
Darude wants to work with Madonna
Finnish EDM producer and DJ Darude opened up about the electronic dance scene, his Tomorrowland experience and his dream female collaborations to Digital Journal. He listed the "Queen of Pop" Madonna as his dream collaboration choice…
After Madonna I don't know. There are so many. Alicia Keys, Beyonce and Christina Aguilera, because of their amazing voices and because they do very different things from what I do, so it would be great to hear what we could come up with and how they and their teams work.
A$AP Rocky wants more Madonnas and Rihannas
American rapper A$AP Rocky didn't say he was a feminist, but he told i-D magazine…
We need more Madonnas and Rihannas, girls who dominate more than men.
"The Fashion World of Jean Paul Gaultier" exhibition in Australia
"The Fashion World of Jean Paul Gaultier" exhibition is heading to the National Gallery of Victoria from 17 October 2014 to 8 February 2015 in yet another fashion/tourism coup for Melbourne.
NGV curator of Fashion and Textiles Paola di Trocchio told The Courrier Mail…
Yes, we will have Madonna's cone bra from her Blonde Ambition tour in 1990, which really put both Jean Paul Gaultier and Madonna at the forefront of most people's minds. We will have pieces from his entire career. We will have the first dress he designed in 1976, right up to the most recent haute couture collection.
Madonna Memorabilia exhibition at Newbridge's Museum of Style
The travelling exhibition 'Madonna Memorabilia' at the Museum of Style in Newbridge, runs until Monday, 15th September. "It is the largest private collection of Madonna's clothes in the world," Newbridge spokeswoman Marie Brennan explained.
The exhibition includes the famous Marilyn Monroe inspired dress, fur stole and jewellery worn in Madonna's "Material Girl" video (dress & stole estimate: $20,000-40,000) and six of Madonna's period clothing pieces from Evita (Various estimates: $800-6,000). In addition, costumes from A League of Their Own (Estimate: $3,000-5,000), her "Music" music video (Estimates ranging from $2,000-$6,000), and the video for "American Pie" ($1,000-5,000).
DJs Chus & Ceballos talk about their Madonna "Hung up" remix
Spanish DJs Chus & Ceballos chat with LessThan3 about their favourite remix they did…
One of the most special remixes for us was the Hung Up Madonna remix. She was the first pop artist to get in touch with us to do something like that. After Madonna, we did Christina Aguilera, Mariah Carey, Shakira, and so many more.
Zendaya inspired by Madonna
Zendaya, the new face of Material Girl, showed up at the 2014 Teen Choice Awards wearing a dress inspired by Madonna's look from the "Material Girl" video. She said…
My stylist, Law, came up with the idea for it to reflect Madonna. So if anyone's ever seen Material Girl… this is the updated version. It's a tribute to the one and only Madonna. So I hope she loves it.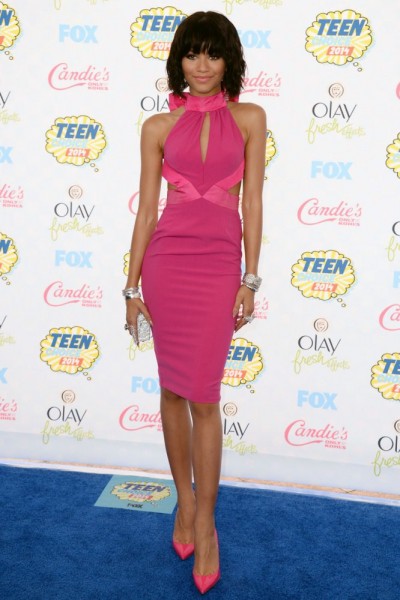 Paste Magazine's top 10 Best Madonna Covers
Paste Magazine put together their top 10 best covers of Madonna songs…
Check it out…
1. Ciccone Youth – "Into The Groove(y)"
2. Vita feat. Ashanti – "Justify My Love"
3. The Flaming Lips/Stardeth & The White Dwarfs – "Borderline"
4. Eric's Trip – "Open Your Heart"
5. John Wesley Harding – "Like A Prayer"
6. Ariel Pink – "Everybody"
7. Bill Frisell – "Live To Tell"
8. Teenage Fanclub – "Like A Virgin"
9. Sia – "Oh Father"
10. Information Society – "Express Yourself"
Rosello Shmaria: "How I got to work with Madonna"
Israeli designer Rosello Shmaria explain how he got involved in designing costumes for one of Madonna's concert in Israel…
A good friend offered me the chance to work on the costumes for a concert by Madonna in Israel. I didn't take it in. I told her I would think about it and call her back. As soon as I got off the phone I realized what I had just said. I called her back immediately and said yes. There were three other designers besides me; we did what's known as 'trends,' items of apparel that are kept for the last minute. We looked at the existing items and tried to figure out how we could add, change things, sharpen the cut. We worked with materials that arrived specially from abroad, a kind of flexible metal that isn't manufactured in Israel. The items we made looked stiff but were actually bendable. Afterward, the crew wanted us to continue with them to the next concerts, but that didn't pan out because of financial problems. They were willing to pay well, but couldn't subsidize accommodation.
The Housewives of Orlando pick their favourite Madonna phase
HitFix interviewed the women of Hulu's new show "The Housewives of Orlando" and asked them what their favourite Madonna phase is…
Tymberlee Hill: "Lucky Star," "Borderline."

Casey Wilson: I'm not a huge Madonna fan. I'll say it.

Danielle Schneider: Are you crazy?

Dannah Phirman: I like when she had the baby and was kind of in Earth mother mode. She had the long tendrils at that time.

Danielle Schneider: I like the Jesus one. "Like a Prayer."

Casey Wilson: See, I liked when she sang that "Playground" song. That was my favorite. Or "Evita."

Andrea Savage: But what about when she became a British children's author? "The English Roses." She had her hair all done up. She was such a proper English lady.
Happy Birthday Madonna by French Fans
Happy Birthday Madonna by Charlie Hides
comments powered by

Disqus