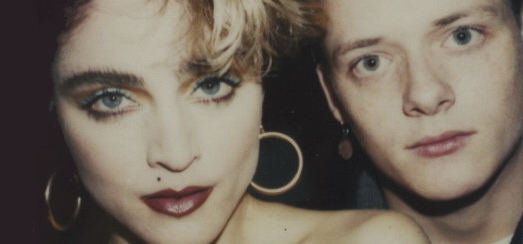 A collection of Madonna photos, art and drawings are up for auction at My Finers Art on February 9th in St. Petersburg, Florida.
The collection is owned by the parents of Martin Burgoyne, an artist, Studio 54 bartender and Madonna's best friend during that time.
Burgoyne and Madonna befriended each other before she became famous. They were roommates and he played a huge role in Madonna's early career. He managed her first tour and drew the cover image of Madonna for her 1983 'Burning Up' EP album cover. They partied with artists Andy Warhol, Keith Haring and others. He was raised in England and went to New York to study art at the Pratt Institute.
Madonna and Burgoyne also supported each other emotionally and financially during hard times — after she was raped and when Burgoyne contracted AIDS.
Burgoyne died in 1986 after battling that disease. He was 23. Madonna wrote a song about him called "In This Life" that was on her 1992 album 'Erotica.'
For decades, his parents have kept their son's memorabilia from that era private – until now.
Mary Dowd, the co-owner of Myers Fine Art, said…
I think they came to a point in their lives where they figured that it was time to do something with the collection.
And so they phone us up and asked us if we would come take a look at it, which we did, and so we saw the breadth of the collection, it was really pretty incredible.
The Madonna photos include candid Polaroids of her making goofy faces with Burgoyne. Others are black and whites, intended for an album cover, of Madonna looking poised and fragile.
Some of them were taken by Burgoyne, while it's unclear who took others. It's possible that Andy Warhol took some of the Polaroids, because they date to same years that he experimented with Polaroid portraits.
One of the more remarkable items in the collection is Burgoyne's sketchbook, in which he inked photo booth sessions of Madonna, and a full-color sketch for her 'Burning Up' EP album cover. The image is totally '80s, all bright block colors. Madonna sports short hair and thick eyebrows.
Down, who's secretly hoping Madonna herself will hear about the auction and bid on some items, added…
If you're an enthusiast of entertainment back in the early 80s — and that was a heyday and pivotal time I think — this is kind of a real step back in time to that period.
It seems like it's something she should have for her historical archives," said Dowd. "It's a big part of her life, from the beginning.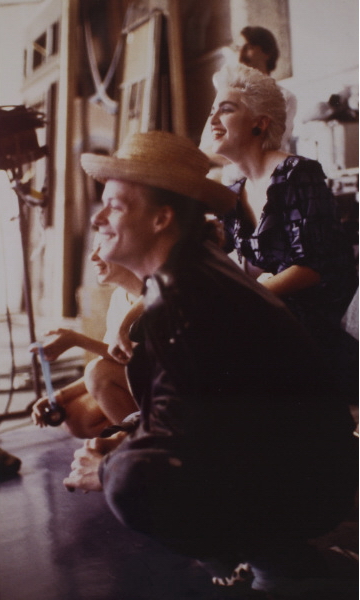 More details at Myers Fine Art

Madame X is available in Box Set, CD, Vinyl and Cassette!
Get your copy HERE!