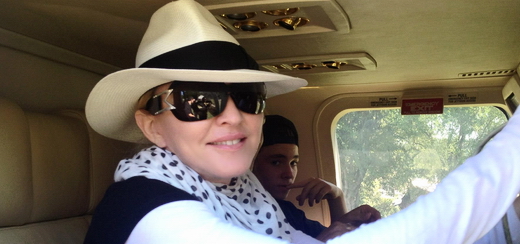 Yesterday, Madonna visited Île à Vache, a small island lying off the south-west peninsula of Haiti, where the government has placed much of its hopes for future tourism development.
She was accompanied by her ex-husband Sean Penn, who said in a brief phone call to The Associated Press that he had invited Madonna, with whom he has "maintained a great friendship over the years," to visit several times and that she had come with her son Rocco. He said they arrived a "couple of days" ago, and he wasn't sure when she would leave.
Penn added…
She's here, she's seeing, she's made the effort to come here, and I'm thrilled by that.
She has a unique platform, and wherever she chooses to bring that to, it's very well.
Penn has served as an ambassador-at-large for Haiti since early 2012. He received the recognition for his work as head of a humanitarian group he co-founded in the aftermath of the earthquake, the J/P Haitian Relief Organization. The group has focused on housing and relocating thousands of people from a golf course that was among hundreds of impromptu settlements that sprang up after the quake.
Have a look…

Madame X is available in Box Set, CD, Vinyl and Cassette!
Get your copy HERE!