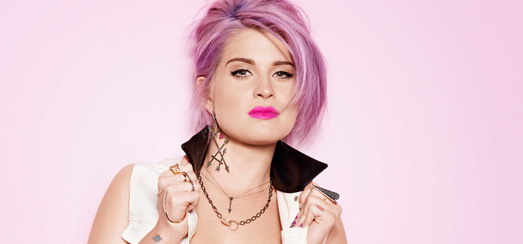 Kelly Osbourne went on popular Australian breakfast show "The Kyle and Jackie O Show" and played "60 Seconds of Celebrity".
She also talked about Madonna and Lola.
Here's a transcript by Madonnarama…
Jackie O: You also worked with Madonna. What was she like to work with?

Kelly Osbourne: Amazing.
She is incredible.
I ended up calling her the voice of God, because we would be at the photoshoot and they'd be like "M says that we want to change this and M wants you to try this."
I'm like "where is she?"
It was because somebody is there taking pictures and sending it to her. She is doing like five jobs at once. I'm like "You're incredible."

Kyle: Control freak?

Kelly Osbourne: No, honestly.
She's very open to the creative process.
I had an idea about something…

Kyle: She'd listen and everything?

Kelly Osbourne: Yeah.

Kyle: Her kids are nice too.

Kelly Osbourne: I'm obsessed with Lola.
I love her so much.
We became really good friends throughout the whole…
They eventually start talking about Victoria Beckham and host Kyle tells a funny story about why and how he took a quick look at David Beckham's penis.
The Madonna part is around the 3min mark.
Check it out…

Madame X is available in Box Set, CD, Vinyl and Cassette!
Get your copy HERE!