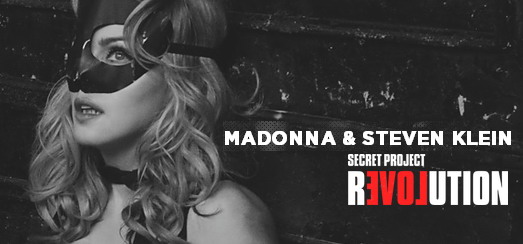 Update #5: Details on #SecretProjectRevolution Spain added
Update #4: Details on #SecretProjectRevolution Rio de Janeiro added
Update #3: Details on #SecretProjectRevolution Russia added
Update #2: Details on #SecretProjectRevolution Jericho added
Update #1: Details on #SecretProjectRevolution Tel Aviv added
—
Madonna teased a picture on Instagram that included different cities from around the world.
Now, she just released more details on Facebook and it looks like the #SecretProjectRevolution movie will be shown at different locations in Los Angeles, San Francisco, Toronto, Chicago, New York, London, Rome, Berlin and Paris.
Where will you be?
Vigo – November 16
Twenty-three years ago, Madonna acted in the city of Vigo (Spain) with her Blond Ambition Tour, on Saturday November 16th at 8:30 pm, on the façade of MARCO (Museum of Contemporary Art of Vigo – Spain) there will take place the first screening of the film Secret Project Revolution in Spain with a spanish subtitled version!
St. Petersburg – November 3
3:30PM – Bez Popkorna (organised by fans)

St. Petersburg is not only known as Russia's cultural capital and the city where Madonna performed twice but unfortunately for its discrimination and intolerance toward gay community (the anti-gay law was passed in 2012). Russian fans decided to share Madonna's Secret Project with St. Petersburg.
We are inviting everybody to join us on Sunday, November 3 in the movie theatre "Bez Popkorna" (9 Belinskogo Street). The film will be shown with Russian subtitles.

Please check http://vk.com/secretprojectspb for more info.
Sergey and Sonya
Rio de Janeiro – October 20
8PM – Complexo do Alemão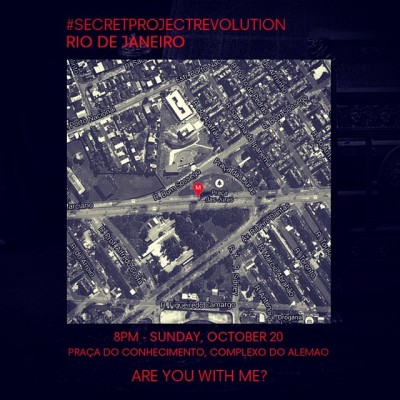 Jericho – October 11
9PM – Spanish Gardens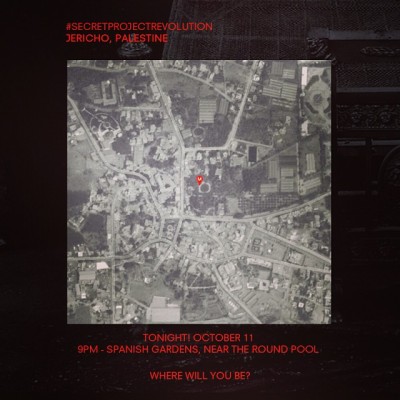 Tel Aviv – September 24
10PM – Habima Theatre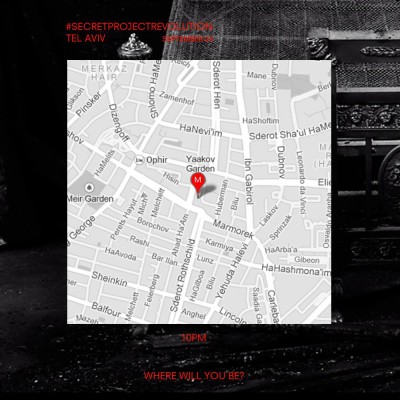 Paris – September 24
1) 10PM – Trocadero, – 1 Place du Trocadero 75016 Paris
2) 10:50PM – Palais de Tokyo, 13 Avenue du President Wilson, 75116 Paris
3) 11:40PM – Igor Stravinsky, 23 Rue Saint-Merri 75004 Paris
4) 12:30AM – Pantheon, Place du Pantheon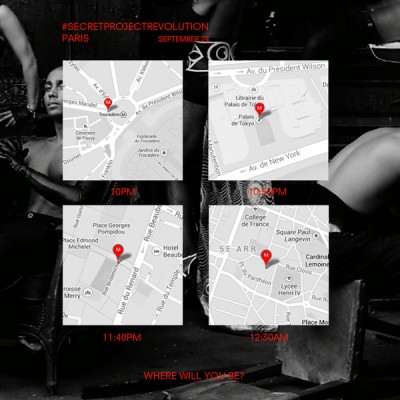 Rome – September 24
1) 10PM – Ara Pacis Museum, Piazza Augusto Imperatore
2) 10:50PM – Piazza della Rotonda
3) 11:40PM – Piazza Venezia
4) 12:30AM – Termini, Via Marsala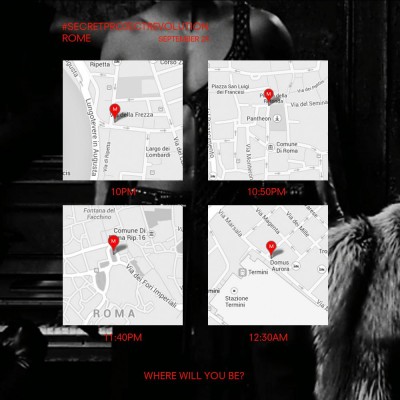 San Francisco – September 24
1) 9:00pm – UC Hastings College of The Law: Golden Gate Ave + Hyde St
2) 10:00pm – The Palace of Fine Arts: 3301 Lyon St
3) 11:30pm – de Young Museum: 50 Hagiwara Tea Garden Dr
4) 12:30am – Social Security Admin: 90 7th St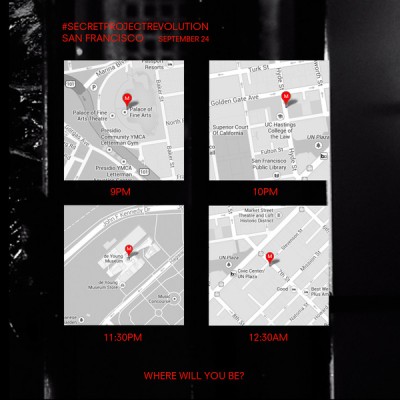 Chicago – September 24
1) 9:00pm – 240 E Illinois St
2) 10:00pm – 21 S Clark St
3) 11:00pm – 6 E Chestnut St
4) Midnight – 501 N Wells St
5) 1AM – 1000 N Rush St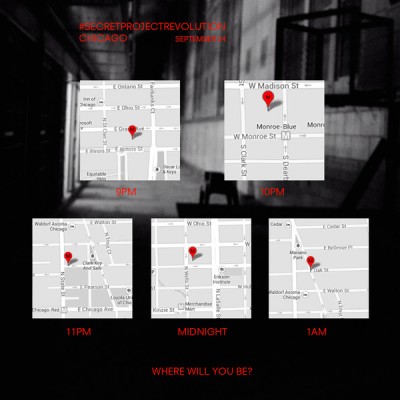 London – September 23
1) 9PM – Exhibition Road: Exhibition Road London SW7 2DD
2) 10PM – Gerrard Place/Chinatown: Chinatown London WC2H 7PR
3) 11PM – Tate Modern: Holland St, London SE1 9TG
4) MIDNIGHT – Shoreditch High St Station: London E1 6GY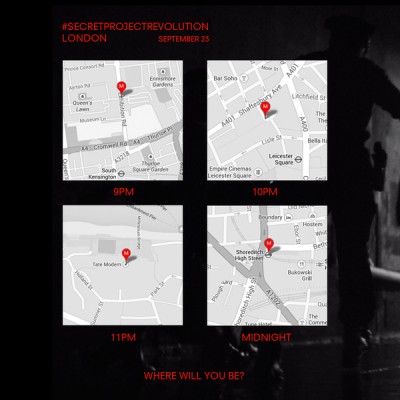 Los Angeles – September 23

1) 9PM – Hillhurst Ave
2) 10PM – 6060 Wilshire Blvd
3) 11PM – 652 N La Peer Dr
4) Midnight – 1855 Main St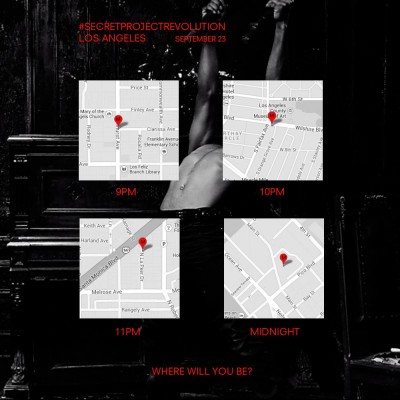 Toronto – September 23
1) 9PM – 9 Trinity St # 200
2) 10PM – 317 Dundas St W
3) 10:45PM – 327 Bloor St W
4) 11:30PM – 273 Bloor St W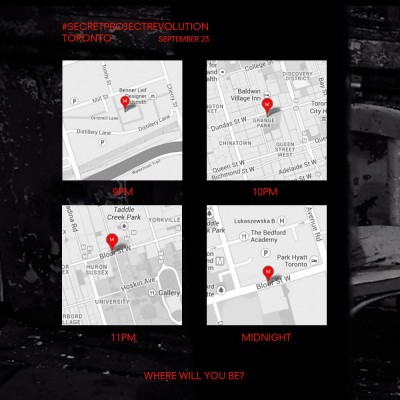 New York – September 23
1) 306 West 31st Street
2) 11 W 53rd Street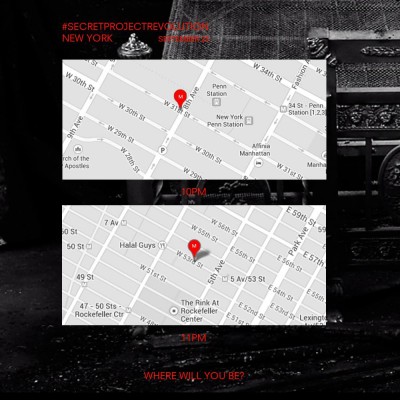 Berlin – September 23
1) 9PM – Oranienburger Straße 60
2) 9:50PM – Galeria Kaufhof – Alexanderplatz 9
3) 10:40PM – Friedrichstraße 43-45
4) 11:30PM – Stralauer Platz