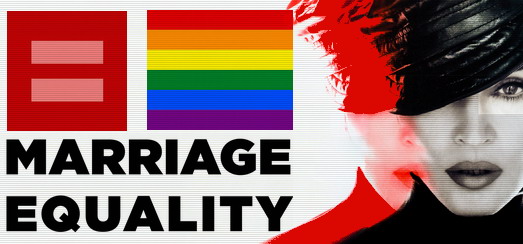 On June 26, 2013, the United States Supreme Court issued decisions on two cases critical to marriage equality: Doma and Prop 8.
Madonna told Page Six in a statement…
What a way to start my day!!
I'm wearing a smile from ear to ear.
There is a G-D!
Justice is served.
Hallelujah!!
More details on the ruling from glaad.org
DOMA
Victory! The so-called "Defense of Marriage Act" has been declared unconstitutional. Committed same-sex couples who are legally married in their own states can now receive federal protections – like Social Security, veterans' benefits, health insurance and retirement savings.

Prop 8
Victory! Proposition 8 has been struck down! The Supreme Court denied standing for the proponents of Proposition 8. This ruling will revert to the ninth circuit court, which will overturn Proposition 8. This means that committed same-sex couples in California will soon be able to marry their loved ones once again.

Don't forget to pre-order Madame X!
Pre-order links available HERE!