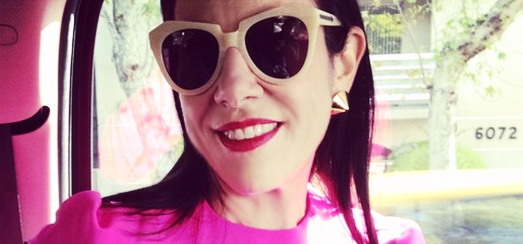 You'd think that, after working with Madonna for 15 years, Arianne Phillips would have seen it all. But Phillips, the stylist and costume designer behind a decade and a half of Madonna videos and performances, as well as films like Walk the Line and W.E., says that the pop star's 2012 MDNA world tour was like nothing she had ever experienced.
Prior to the premiere of Madonna: The MDNA Tour in New York last week, Phillips, who's currently in London working on a new film, talked to Style.com about the MDNA costumes, Madonna's collaboration with Jean Paul Gaultier, and what it takes to put on an unforgettable show.
A very interesting interview by Katharine K. Zarrella
Where do you begin when designing costumes for Madonna?
Well, it always starts with the music, of course, and usually Madonna crafts a set list that's part of a narrative. It's a story with a beginning, middle, and end. This show was really about transformation. Each act had a different theme and costume had a purpose. This tour with her was definitely the biggest undertaking I have been a part of—on the technical side and on the conceptual side. It's one thing to just design a costume for Madonna herself, but if you think about it, we had 23 dancers, five band members, and two background singers. And everyone requires multiple costume changes.

How do the costumes help express the show's narrative?
We think of it as characters, and [Madonna] is playing a part. That character requires development and visuals in addition to the songs she's singing. In the beginning of the show, she comes out dressed like a queen in a crown with a machine gun. She takes that off to reveal this super-vixen character that we kind of debuted in the "Girl Gone Wild" video. The next act is all about expression and having a message, and it opens up with "Express Yourself." She's wearing this homage to a forties majorette. The third act is "Vogue," and it's all about identity and gender-bending—iconic Madonna. She's trying to figure out who she is again. And in the end, it's a celebration, and she transforms into this powerful Joan of Arc character. Everyone is wearing mesh T-shirts, and it's just like a really fun party. The tour gave her an opportunity to take classic songs like "Papa Don't Preach" and give them a new twist. She has been performing these same songs forever, but she's the queen of reinvention, and she creates an entertaining concept for the shows that keeps it interesting and relevant. The costumes have to underscore that, and they have to provoke and entertain.

How many costume changes did Madonna do throughout the course of the show?
The costumes are part of the choreography, so we have a lot of quick changes, and people are literally changing clothes under the stage. Madonna changes full costumes about four times. But then, for instance, for the "Vogue" act, she comes out in the Gaultier corset and then she disrobes. So by the end of the act, when she sings "Like a Virgin," she is in a corset and a bra, and she has done different songs in different deconstructions of the outfit. So her costumes change for almost every song.

Were there any wardrobe malfunctions?
Everything goes wrong daily. Shoes break, bras break, but that's what keeps a live show interesting. When the adrenaline of the audience kicks in, there's almost like a langue between the audience and the performers. And that's when seams pop off and crystals fly.

You've worked with Madonna for 15 years. Did you feel any pressure to top yourself with this tour?
This is not like anything I have ever done before, or like she has ever done before. The great thing about working with Madonna for 15 years is that every project is a new and different challenge. She has to raise the bar to keep herself interested. The great thing about her is that she is not nostalgic; she is not looking to redo something she has done in the past. But it takes us 12 weeks in preparation and rehearsals before we open the show, and I was still tweaking things into the first five or six shows, partly because I used materials that are not traditional for performing onstage.

What kinds of materials?
For instance, all that metal mesh and the crystals that she wears in the final act—that was physically heavy. That costume weighs around 15 pounds, so she had to do all of that rigorous choreography with extra weight. Most people would never do that or be able to take it, but she wanted to wear the real thing because she liked the way it looked. And she took a beating while she was dancing and sweating in it, but it looked beautiful.

You mentioned that Madonna is not nostalgic, but she did have one nostalgic moment on this tour with the Gaultier cone corset. Why did you decide to bring that back?
At this point, Madonna has created her own language with fashion and music. There is a kind of DNA of Madonna in terms of what we love about her. I have been working with her for a long time, and one of my favorite things that I have ever done with her is the collaboration with Jean Paul Gaultier. He is so lovely to work with, and their friendship predates me. It seemed like a no-brainer. That whole piece is about gender-bending, and you know, both Gaultier and Madonna are provocateurs. Gaultier is such an important person in our fashion history and culture, and the things he and Madonna have deserve to live on as part of her visual legacy.

In addition to Gaultier, you worked with Jeremy Scott and used some pieces from Alexander Wang. How did you decide what designers to feature in the tour?
Alexander didn't make anything specially for us; we just responded to some of his pieces. Jeremy is a longtime collaborator of ours. What Madonna loves about him so much is his connection to his audience. His collection is so connected to street and club culture, and we always have a place for him on tours. He is our go-to innovator. He did custom shoes for us, and he did these amazing, Indian-inspired tracksuits for the dancers for "I'm a Sinner." Then we used J Brand jeans; Agent Provocateur made some amazing bras; and we used a lot of independent New York designers. Michael Schmitt, who we've worked with forever—he does tour stuff for everyone from Rihanna to Cher—collaborated with us on the Joan of Arc costumes for the last act. He specializes in metal mesh. He is actually famous for doing Tina Turner's metal mesh costumes back in the eighties. I designed tons of stuff, and Prada and Miu Miu made most of Madonna's shoes—they've been making shoes for Madonna's shows for a long time. She also wore her own Truth or Dare shoes.

Are you two always on the same page when it comes to the costumes, or do you butt heads?
I mean, she is the director, and she is constantly evolving her ideas, which makes it more interesting for me. But of course we butt heads. It's a process. She has me there for an opinion—I'm not there just to say yes. It would be boring if we agreed all the time. Sometimes she pushes me or I push her, and there are certainly times when I compromise my ideas. She is the boss. It's her show and no one knows it better than her. But in the end, we agree. Trust me.

What kind of research do you do for a tour like this?
We look at the past, the present, and the future, and everything informs our ideas. It's no-holds-barred. It would be ridiculous not to look at her past. We are paying homage with a wink and a nod in the whole gender-bending act with the Gaultier corset. Everything is fair game, really.

Is shock factor something you think about when you're designing the costumes?
The beauty about working with Madonna is that she isn't thinking about what people are thinking about when they see the show; she is thinking about what is true and authentic to the idea. She has proven time and time again that she is a provocateur, and what is shocking to you might not be to her. To invest in shock—no. That's not part of our language.

Madame X is available in Box Set, CD, Vinyl and Cassette!
Get your copy HERE!