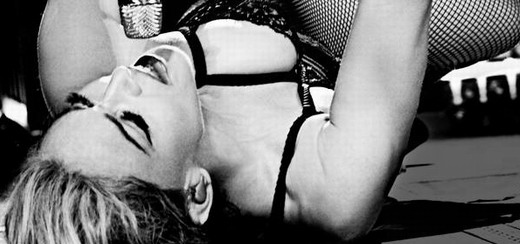 Last month, we revealed some exclusvie details on an 18-minute black & white video that was shot during the MDNA Tour workshop that happened before the actual tour rehearsals.
Epix already posted a small teaser and now Entertainment Weekly posted some new footage!
EW wrote…
Madonna still matters.
That's the message of Madonna: The MDNA Tour, a documentary that chronicles her top-grossing 2012 worldwide tour. Ostensibly a concert film, The MDNA Tour also sheds light on the impact Madonna has had on a generation of artists, dancers, and general fans who refuse to conform for conformity's sake.
Director Danny Tull, who's edited several of Madonna's recent projects, including W.E., took a close-up look at the icon's legendary drive, cutting the best moments of 88 different shows into one cohesive documentary.
He said…
There was just a mammoth amount of footage to get through and find that perfect shot for her.
On 'Like a Prayer,' there must be [cuts of concerts from] 50 countries inside that song alone. It was really intense. I think I looked down one day and I was like, 'Oh, my fingers are about to fall off.' But it was worth it.'
By the end, Tull knew the ins and outs of the concert perhaps better than Madonna herself, but she still never ceased to surprise him. "
The interesting thing with her is you never know what you're going to get.
She always brings something different to the table. Maybe fans had known it before, but I think her Olympian spirit will be reinforced again [with the doc]. It's just unbelievable, the pace of the show. It's just non-stop. It's very difficult to keep up.
In case you missed the Epix teaser, here it is again…
/p>

Madame X is available in Box Set, CD, Vinyl and Cassette!
Get your copy HERE!