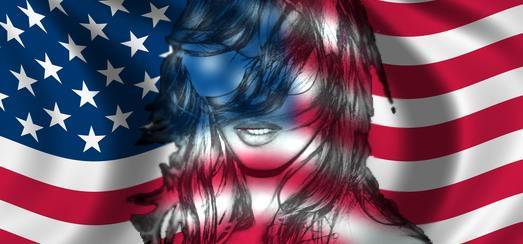 You took pictures, videos or just want to tell us about your MDNA Tour experience, do not hesitate to send us an email at [email protected]
—
FAN VIDEOS

FAN PICTURES

CREW PICTURES

REVIEWS

Were we at a Madonna concert or an Obama political rally? That was a question some people at Consol Energy Center both thought and said out loud on Tuesday, as pop music's larger-than-life, original "bad girl" stormed the stage with her energetic music, theatrics, choreography and sassy political commentary.
Madonna's MDNA Tour show stopped in Pittsburgh on election night, so audience members knew what to expect. Madonna proudly proclaims her liberal beliefs and love for President Obama at her shows, and we could only expect that would intensify on election night, as it did. Judging by the ratio of cheering versus booing, more than half of Madonna's fans were celebrating Obama's victory along with her, and none of her talk was mean-spirited. Madge even addressed the Republicans in the audience and said, hey, she loves them, too.
While some fans merely tolerate rather than enjoy the politics, all go to a Madonna show for the sheer enjoyment of the music. Madonna oozes sensual stage charisma, and could be a dancer in her own right even if she didn't sing. Her shows offer as much for the eyes as they do for the ears, with a troupe of dancers in flamboyant costumes, flashy graphics on the backing screen, changing scenery and smart choreography. Watching a Madonna show gives the audience an experience similar to watching a Broadway musical. Although some parts of the singing seemed recorded, Madonna undoubtedly sang live for a good portion of the songs.
The show's scenes included one in a diorama-like hotel room, with an armed Madonna singing "Revolver" as she overcomes her lover. For the song "Express Yourself," Madonna and her band members dressed up in red and white marching band outfits, with Madonna twirling a baton. One of the evening's highlights came with the singing of the powerful 1989 hit "Like a Prayer," where members of Madonna's troupe put on church robes and played the role of choir, with gothic church images on the backing screen graphics.
The MDNA Tour's main flaw is that it mostly ignores Madonna's music from her heyday in the early and mid '80s. While the show does include a few of the late '80s songs, including "Vogue," the rest of the show focused on Madonna's more recent work of the past decade. Except for a stray teaser lyric here and there, we heard next to nothing from Madonna's "Like a Virgin" or "True Blue" era, or her first album — except for a fun performance of the happy, bouncy "Holiday."
The audience included mostly 30- and 40-something women, who grew up with Madonna's music, although many enthusiastic male fans came, too. Several women dressed up in cutesy, '80s-style Madonna-esque garb from her "Desperately Seeking Susan" days, with leg warmers, lacy skirts, big sunglasses and the wavy hair.
Many fans left the concert before it ended around 1 a.m., likely some because they were tired of the political talk. But a more likely explanation is that most early leavers were simply exhausted and wanted to get up for work Wednesday morning. Madonna inconvenienced us by beginning her set some 40 minutes after it was supposed to start at 10 p.m., and didn't offer an explanation for the long delay, which she has been known to do at many concerts. But the show was so fabulous that it was worth the delay, annoying as it was.
Most Americans got their election returns Tuesday night from Brian Williams, Wolf Blitzer or one of the other distinguished anchors.
The beautiful people packed into Consol Energy Center found out who their next president was from, of all people, the woman who dances around in lingerie and sings "Like a Virgin."
It was quite a way for Madonna to spend her first night in Pittsburgh since 1985. To be exact, it started Tuesday night and ended Wednesday morning. She hit the stage around 10:45, thinking perhaps that the fans who paid hundreds for the tickets didn't have jobs to get to the next morning.
What her patient and long-suffering Pittsburgh fans got was a highly choreographed, highly stylized pop spectacle and an Obama victory celebration from one of the artists who helped re-define pop spectacle in the '80s.
She's had a knack for throwing her sexed-up dance-pop into the face of her Catholic heritage, and we didn't have to wait long for it Tuesday. The stage was set as a cathedral with robed monks performing a mass under a fiery, swinging thurible, when Madonna burst out of the confession booth in gangsta black to confess her sins and sing (along with the track to) "Girl Gone Wild," the monks turning into her spectacular topless dancers.
It launched her very physical concert journey from darkness to light, breaking down roughly into a narrative of religion, violence, sex and spiritual release.
"Revolver" took us from god to guns, with murderous Madonna and her girl dancers packing heat that went off during "Gang Bang," blood soaking the video screens as she sang "bang bang, shot ya, shot my lover in the head" and did a balletic tussle with a dancer in a Tarantino-looking motel scene. "Papa Don't Preach" was a brief roll on the floor before she was manhandled and bound by military thugs doing a cool tightrope dance, which she joined, on "Hung Up."
It was a relief when things turned sweet and bubbly, the 54-year-old Madonna marching around in a majorette uniform for "Express Yourself," combined with its knockoff, Lady Gaga's "Born This Way." "She's not me!" Madonna chanted with her backup singers, bringing us to the cheerleader pop of "Give Me All Your Luvin'," complete with a marching band suspended from ropes.
In the Euro-styled mid-section, things went off script when Madonna learned that "my baby, Barack" had been re-elected. After the wild Eastern European dance on an "Open Your Heart" that was more jubilant than ever, she yelled "Do you know what just happened?!" and led the crowd in a chant "[f] yeah." When she heard a few boos, she said, "I love you too, but I want a president with a moral compass." She briefly apologized for her partisanship, then added, "Why am I sorry!?" It led her into an impromptu version of "Holiday" with a spinning "happy dance," as she called it, and a bit more emotion on the ballad "Masterpiece."
We mentioned sex, right? Yeah. Things got racy, as she was groped by a dancer on "Candy Shop," while singing "my sugar is raw," and she stripped down to a bustier and a thong, as she promised if Obama won, for "Human Nature"/"Like a Virgin," done as a slow dirge that showed off her most seductive vocal. The segment ended with her writhing and rolling in money she asked people to throw on stage for Hurricane Sandy victims as she sang "Love Spent."
For the big climax, the whole crew went Shaolin style for "I'm Addicted" and the world beat "I'm a Sinner" building to a rousing gospel version of "Like a Prayer," capped with a trip to the modern disco for "Celebration," with a shout of "We won!"
Needless to say, it was quite a bit different than the '85 show when the young star pranced around to simple catchy pop songs like "Borderline" and "Lucky Star." That was an unforgettable one for her teen fans.
A lot of those same fans were back for this very different, much more expensive and somewhat more divisive experience with the grown-up Madge. Between the late hour, the eye-popping production, the elaborate dances, the striptease and the night's historic events, Pittsburgh's Madonna fans will always remember where they were on Election Night 2012.
Thanks to everyone who shared their material!

Madame X is available in Box Set, CD, Vinyl and Cassette!
Get your copy HERE!