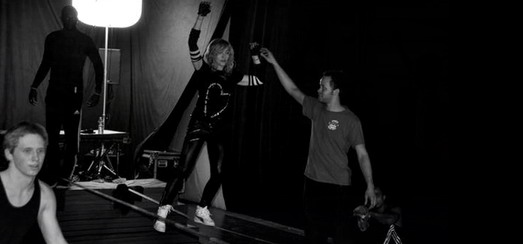 If you've seen Madonna in concert this year or even the Super Bowl Halftime, then you have witnessed the acrobatic performances on what seems to be a tightrope.
This technique is called Slacklining and it's growing in popularity.
The sport originateed from rock climbers who would walk on ropes and chains to work on their balance, and to strengthen knee and ankle stabilizer muscles.
The queen of Pop has included the Gibbon Slackliners in her MDNA 2012 world tour.
Meet Hayden Nickell, 23 of Durango Colorado; Jaan Roose, 20 of Estonia; and Carlos Neto, 23 of Brazil.
Nickell said…
I think when [Madonna] was looking around on YouTube or online and discovered it, she found this eccentric guy Andy Lewis and invited him to come do his thing at the Super Bowl and that really paved the way for mainstream slacklining.
The nature of the sport is very interesting, something that nobody has really seen.
There have been a lot of high-wire acts and tightropes, but those don't move, it's more of just walking and doing static tricks, and this is kind of taking that gymnastics dynamic to the tightrope.
During the halftime show, Lewis appeared in a toga and performed high energy acrobatic moves on a 2-inch wide trampoline-like rope known as the slackline.
The trio auditioned for Madonna in Colorado showing off their stunts and flips before being chosen to take part in her tour.
He added…
The tour is absolutely amazing. It's a great opportunity to see the world and to be around Madonna. She's a very inspiring person, it's crazy to see concerts from the other side.
The slackliners have one number on stage with Madonna during the song '"Hung Up" as she walks the line, and one song on their own. To prepare for the slacklining, Madonna trains with the guys before the show every day for two hours.
The European tail end of the tour wrapped up in late August. Madonna and company are now touring the U.S., and are currently performing in D.C. at the Verizon Center.
On Tuesday they head to Vancouver, Canada and will then make their way back into the U.S.
In late November they will head to Latin America with the tour concluding in Argentina in December.

Madame X is available in Box Set, CD, Vinyl and Cassette!
Get your copy HERE!