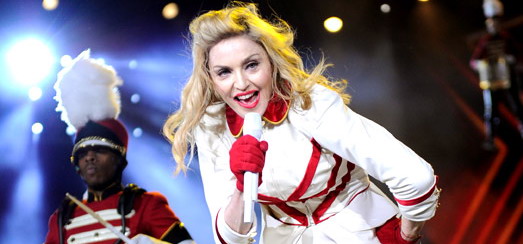 Madonna's MDNA Tour, which began May 29 in Tel Aviv, has grossed $115,701,909, with attendance of 985,340 to 33 shows, according to Billboard Boxscore. For North America, Madonna has sold $111 million in tickets for 44 shows in the U.S. and Canada, according to Arthur Fogel, chairman of Live Nation Global Touring and producer of Madonna's tours. Dates are currently on the books up until a double at American Airlines Arena in Miami Nov. 19-20.
Madonna is no stranger to the elite ranks of touring artists, as her last tour, 2008-2009's "Sticky & Sweet," is third all-time in box office revenue at $408 million, according to Boxscore, highest ever for a solo artist.
"MDNA" is tracking on Boxscore to be among the biggest not only for 2012, but also one of the top tours of all time.
While Madonna's first headlining tour was in 1985, the upcoming run will only be her ninth. Sticky & Sweet was a monster by any measure, including blockbuster dates in a wide range of territories, 32 countries in all. Madonna sold 650,000 tickets in South America, 72,000 tickets at Zurich's Dübendorf Airfield–the largest attended concert ever in Switzerland–75,000 tickets in London, and four sellouts at New York's Madison Square Garden that sold 60,364 tickets. That tour wrapped where 'MDNA' began, in Tel Aviv.
As a touring artist, Madonna is relatively "fresh" compared to some artists with similar career longevity.
Fogel told Billboard.biz earlier this year…
"When I started working with her on the 2001 tour, she hadn't toured since the early '90s.
The last tour was her biggest tour ever, it propelled her into the top-grossing tours of all time and was the top tour ever by a solo artist, and that was 25 years into her career.
Whatever there is to be said, the facts speak for themselves: she's never been bigger, and she's a great performer with a great catalog and a great new record. She's one of those iconic legends at the top of her game.
There are people out there who always want to set it up as her against other artists that have emerged, but the truth is they're all unique and great and have their space in the hearts and minds of fans.
I don't even think about that stuff, it's irrelevant."
Over the past decade, Madonna tours have moved into that elite status of the "event" tour, where the tour itself becomes a cultural touch point. And while there are other acts that are hugely popular on a global scale (Fogel works with a couple of them, including U2 and Lady Gaga) a Madonna tour remains a unique animal in terms of striking a chord with a passionate fan base and generating media coverage.
Source: Billboard

Madame X is available in Box Set, CD, Vinyl and Cassette!
Get your copy HERE!