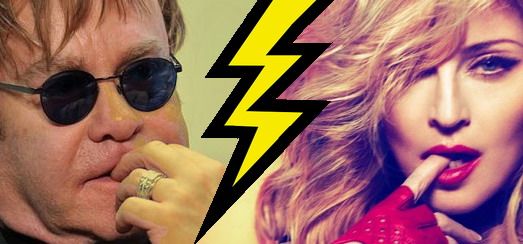 Yesterday, we posted an excerpt of the Molly Meldrum interview with Elton John calling Madonna "a cunt and a fucking fairground stripper, whose career was over."
Today on Radio 3AW's Breakfast Show, entertainment reporter Peter Ford told Ross and John he had been contacted by Elton John's publicity team saying…
Elton John's PR is claiming that it's all rubbish and that all the quotes are made up.

[Pete Ford said that the claims had aired on television]

An hour or two later, they came back and said that it was all off-the-record.
Elton John is furious that it was put to air. It was meant to be a private conversation between Elton John and Molly Meldrum.

Elton's been around long enough to know that if there's a camera there and someone's standing behind it with a red light on… It's still being recorded.
Speaking with 3AW Breakfast, Molly Meldrum said he was taken aback by Elton John's comments attacking Madonna…
I love Elton, but when he launched into Madonna I slightly went into shock because Madonna also is a friend of mine. But I have to say that she has been very naughty of late.
Peter Ford said Molly Meldrum had a good enough relationship with Elton John to not do the wrong thing by him…
Unless you actually specify it's off the record, then everything is up for grabs.
Peter Ford said he had been asked to give Molly Meldrum's phone number to Elton's publicity team, as Elton was demanding he speak with him, but he respectfully declined.

Madame X is available in Box Set, CD, Vinyl and Cassette!
Get your copy HERE!