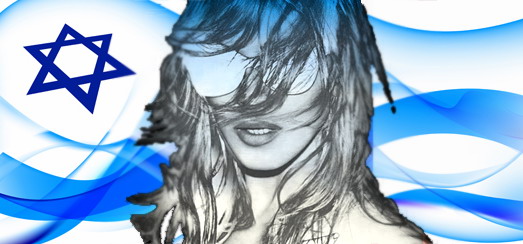 nYou took pictures, videos or just want to tell us about your MDNA Tour experience, do not hesitate to send us an email at [email protected]
—
ARTICLES

Rolling Stone – Madonna kicked off her ambitious MDNA world tour in Tel Aviv last week, unveiling a whole new era of provocation that challenges the present and winks at its own past(s). The original Queen of Pop kept a lid on the visual elements of the show before the kickoff, creating a mystery with major payoff for her legions of international fans. The looks are as bold as any she's worn, and clearly pay homage to a pantheon of powerful female archetypes – including, of course, a nod to her own past glories.
The MDNA show kicks off dramatically: Madonna is cast as a holy crusader with rifles and a hijab, converging both the militarism of the Reinvention Tour era (seen below) and the singer's ongoing interest in religious conflict. She's a "sinner," she says, and she likes it that way. She soon breaks into the murderous fantasia "Gang Bang," from the new record, which sees her assailing a series of wrongdoing males. Well, she did promise us couture, blood, and bruises! Of course, though, she prevails, ending the first set with a shattered crucifix and vanishing into a blinding white light.
The looks, the sounds and the mood are very intense. In fact, while her latest album turns heartache and mortal confusion into supreme ear candy, it plays out much more darkly onstage than you might expect –thanks, in part, to her arsenal of daring costumes. Among the most striking looks is a modern interpretation of what the immortal warrior saint Joan of Arc might wear on a future crusade; fittingly, Madonna wears it during "Like A Prayer," imbuing the song with a new urgency.
Arianne Phillips, who created the ominous ensemble from metal mesh and Swarovski crystals, continues her influence over the design direction of the tour, as she has for the past four Madonna world tours. Since 2008's Sticky & Sweet tour, the spectacle has only grown more massive. "This show is epic and bigger than anything she's done before. There are many more costume changes. We're taking 700 shoes on the road. Madonna changes outfits seven or eight times and the dancers change 10 to 15 times, depending on the dancer," Phillips told WWD. She even costumed the singer's children, who have supporting stage roles throughout the show.
It's not all sinister, however: another notable new MDNA wardrobe staple is Phillip's sporty majorette look, which suits MDNA's pop squad vibe, and plays off the athletic themes Madonna explored with both her Confessions on a Dancefloor and Sticky & Sweet outings; while the former tour saw Madge embody glam roller disco queens and elegant equestrians (seen above), the latter explored boxing and youthful streetwear, a theme cheeky designer Jeremy Scott continues on the MDNA tour in his dancer costumes. But even though these are playful looks, they wardrobe a sardonic moment in the show where Madonna expertly blends her own "Express Yourself" with Lady Gaga's "Born This Way," adding the inevitable "she's not me!" jeer at the end. Everyone will get it.
Where her followers amiably tease and play, Madonna confronts and subverts, and will always revel best in risque iconography. That includes what she's admired and emulated – an Emma Peel-leaning "Super Vixen" catsuit worthy of a spate of iconic villainesses is worn through "Human Nature" – and what she's memorably created, as in Jean Paul Gaultier's ingenious revisitation of 1990's "Vogue" bullet-bra in a menswear ensemble. This time, the iconic look is even leaner and meaner: it comes equipped with a stern looking skeleton corset. Noting its masculine/feminity duality, Gaultier explains to WWD, "We played with the ideas of a suit and a corset. But the corset is now like a cage." He added, "I love Madonna. She is the only woman I have asked to marry me. She refused, of course. But when she asked me to do a costume for her for this tour, I couldn't refuse."
One thing Madonna seems to have moved on from is parading as a rock star. On past recent tours – most specifically 2001's Drowned World tour, where she dressed as a guitar-wielding punk cowgirl (seen above) – she made a point to pluck out acoustic interpretations of her hits while wearing plaid, leather and spikes, gestures many regarded as entirely unnecessary. We don't come to Madonna for rock & roll, nor any of its wardrobe trappings. We come to her for an unparalleled super pop spectacle, and that's what MDNA, as an album and tour, set out to prove: no one does provocative pop better, and no one, even now, looks c0oler doing it.
FAN PICTURES

CREW PICTURES

VIDEOS

FAN VIDEOS

Thanks to everyone who shared their material!

Madame X is available in Box Set, CD, Vinyl and Cassette!
Get your copy HERE!