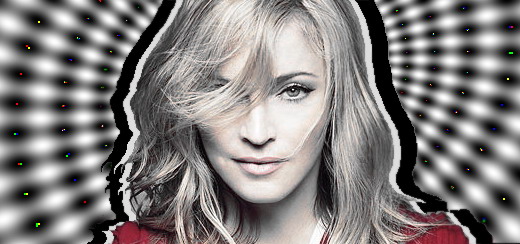 For the promotion of her latest album MDNA and the upcoming MDNA Tour, Madonna sat down for a few exclusive interviews.
German Zeit Magazin had the privilege to spend 15 minutes with Madonna in New York, right after the "Truth or Dare by Madonnna" party at Macy's.
Two hours before the interview they received a call from the record company, asking if they could also ask a few questions for her Japanese fans, as the Japanese press wouldn't get a separate interview.
As always, Liz Rosenberg sets the rules: no questions on her children, parenting, divorce, Guy Ritchie, love life, gossip in general and Lady Gaga. Only questions on MDNA and the MDNA tour were allowed.
Here is the German interview, translated by Madonnarama…
Zeit Magazin: Do you know the Berlin club Berghain ?
Madonna: Berghain? Why?

Zeit Magazin: Because people from all over the world go there to dance on techno music.
Madonna: I see.

Zeit Magazin: A line from your new song "Girl Gone Wild" is "On the floor till the daylight comes." When was the last time you danced till dawn?
Madonna: Last New Year's Eve. In Gstaad, with Jay-Z. Dance music.

Zeit Magazin: How can you tell that lyrics for a song are good enough?
Madonna: When I get goosebumps. I just feel it. Some songs come easily, while others can take quite some time.

Zeit Magazin: Do you enjoy writing songs? Or is it hard work?
Madonna: It's hard work, but it's fun.

Zeit Magazin: How did you discover new music?
Madonna: I have many friends who are DJs. And I hear a lot of new music in my daily workout.

Zeit Magazin: Do you educate your children musically?
Madonna: I play a lot of soundtracks for them and also stuff from the past, like Edith Piaf. On the other hand, my kids play new music to me, so we kind of help each other.

Zeit Magazin: Did your kids bring you any new music where you thought: "I don't understand this anymore." Like dubstep for example…
Madonna: I Love dubstep! My children have very good taste. I also play them a lot of music from the eighties. Kurtis Blow, for example. B-Boy Music! My son loves breakdancing!

Zeit Magazin: Do you teach your son the correct breakdance steps?
Madonna: No, he teaches me! But I'm pretty bad!

Zeit Magazin: Do you have the music from the eighties still on vinyl?
Madonna: My vinyls are stored. I don't have them with me at home.

Zeit Magazin: How long can you go without making any music?
Madonna: Three years. Then it starts to hurt.

Zeit Magazin: Do you always play music at home?
Madonna: Always!

Zeit Magazin: What is currently on your iPod?
Madonna: I am currently listening to the soundtrack of the film Pina, about Pina Bausch, the choreographer. Have you seen the film by Wim Wenders? I love the story: a woman who dances and whose work is ahead of its time.

Zeit Magazin: Do you remember when you first heard yourself on the radio?
Madonna: Yeah, I remember. I lived in an apartment in New York, 92 Street, on the riverbank. Everybody was on the radio. That was a pretty surreal experience. I was like "That's me! How did that happen?" It was a pretty magical moment.

Zeit Magazin: Do you remember your very first concert?

[Madonna thinks and looks at Liz Rosenberg, who tells her "The first show in America in 1984".]

Madonna: No, that was already a big stadium show. I started in a club. The CBGBs, a legendary club in Manhattan. Bands like Talking Heads, Blondie and The Ramones created their first buzz there.
Zeit Magazin: Do you remember how many people came?
Madonna: I do not know how many people were there. I was a drummer in a band. I remember that it was hard work setting up the drum equipment and having to break it down. And someone threw beer on me.

Zeit Magazin: Were you nervous?
Madonna: Yeah, I was nervous and excited. It was really cool.

Zeit Magazin: Are you still nervous about huge shows like your Super Bowl performance.
Madonna: I was nervous, for sure!

Zeit Magazin: Is every new number-one hit still as exciting as the first one? Or do you get used to the success?
Madonna: No, you never get used to it. As for my work, I take nothing for granted.

Zeit Magazin: What is harder: to become famous or to stay at the top?
Madonna: To stay at the top.

Zeit Magazin: How have you managed? What is the most important rule?
Madonna: I don't think there is a rule.

Zeit Magazin: But no one in the pop business has stayed at the top for so long as you.
Madonna: You must do what you really love. You have to feed your soul with ideas, and you must not cease to grow as a person. That's what helps creating art.

Zeit Magazin: If you were President of the United States for one day, what would you do?
Madonna: On a day you cannot change much. I think I would have to be a President a little bit longer, but I wouldn't spend so much money on weapons of mass destruction. I'd give more money to education and art.

Madame X is available in Box Set, CD, Vinyl and Cassette!
Get your copy HERE!