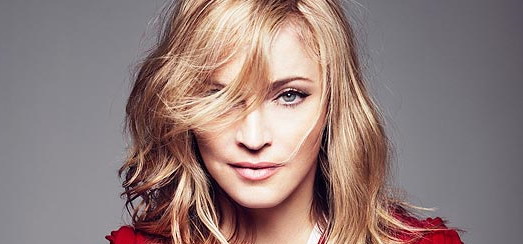 Madonna was recently interviewed by The Sun's "Something for the Weekend"…
A mum of four's time is precious, especially when she has an album to finish and a gruelling tour to play for.
But the Queen of Pop couldn't have been more enthusiastic and open about her 12th studio album MDNA — which might have something to do with the great reviews it has already received.
It's out on Monday.
In October of this year Madonna will celebrate the 30th anniversary of the release of her first single Everybody.
Since then she has toured the world nine times, won countless awards and scored ten No1 solo albums.
But the singer, 53, still finds the presentation of new material a nerve-racking experience.
Speaking exclusively to SFTW, she said…
I don't think presenting any of my work is less nerve-racking than it ever was because I put my heart and soul into something.
Whether it's on a film or my record, it's something to work on in privacy and create in a kind of bubble and then put it out in the world.
You never know how people are going to receive it, whether it's going to move them or inspire them. The world is so full of entertainment now, isn't it? So there are a lot of nerves.
It's amazing to be back in music. I like the intimacy of a recording studio and song-writing. I'm using a different part of my brain when I work on music versus when I'm directing a film.
There are a billion more people on a film and I don't have that visceral outlet of being able to sing, scream… jump around.
It's very different. I love doing both but it was nice to have the simplicity of song-writing after three years of writing a script and directing and editing and talking about my film, to sit down and play my guitar and sing a song. I almost cried.
Her last studio album, Hard Candy in May 2008, experimented with a hip-hop influence. She collaborated with Justin Timberlake, Pharrell Williams and Timbaland.
The album reached No1 around the world but received a lukewarm reception from some fans and critics.
MDNA, a "triple entendre" as she describes it, is a return to what she does best: classic pop songs with a sprinkling of trademark controversy.
And it is down to the return of her winning formula: working with top European producers.
Stuart Price produced some of her best original material on Confessions On A Dancefloor back in 2005. She also made some great material with French electronic guru Mirwais.
But her return to the studio with producer William Orbit, who made Ray Of Light back in 1998, is a master stroke.
The tracks they have made together on the new album, including Gang Bang and Some Girls, slot into her discography perfectly.
She has also employed the skills of Martin Solveig, Italian DJ Benny Benassi and his cousin Allessandro.
And Madonna believes her return to Europe for her producing partners is no coincidence.
She explained…
I think maybe I just have more of a European sensibility. People say that about my songs as well. I like working with people who are well-read and know what's going on in the world.
Conversation is essential. With William, we always get into discussions about philosophy or quantum physics.
With Martin Solveig we always end up getting in to discussions about foreign films. When I'm working with people I can't just write music, I have to be able to talk about life and the world, and art. Benny was a tricky one because he doesn't speak English very well.
I ended up kind of using his cousin Allessandro as an interpreter.
It was a little bit frustrating at first but eventually we found a way to communicate. You figure out a way. With music it's so much about the vibe and the energy and you know when things are working and when they're not.
When you're working with someone for the first time, there's a kind of shyness that everybody has, so with Benny it was more challenging because of that but we figured it out and by the end I felt like I knew him very well.
Martin is such good fun, I adore him. You have to feel like you can say 'No, I don't like that,' and you're not going to hurt their feelings. And vice versa.
But he's got just the right balance of seriousness and humour.
He's very organised and methodical in his thinking so I like his work process.
The production on the album is slick, with some great touches.
On Gang Bang the noise of a spent cartridge from a gun hitting a concrete floor illustrates her "Kill Bill" fantasy for the track.
But the contrast of a huge pop track like Superstar, featuring her daughter Lourdes on backing vocals, is followed up with a song called Falling Free — one of her most stripped-back songs for years. She explained…
I have to be completely involved in the production. I like the contrast.
I like to have something that is just slammed with noise and sound and bass and drum, sensory overload and then create something like Falling Free, which is stripped back and all you can really hear is my voice and the lyrics.
Sometimes I sit down on a guitar and start strumming chords and things come out.
Sometimes people bring a song to me that has a title, for instance, or an idea of a lyric and I take it and kind of re-shape it, re-word it and make it my own. It comes in so many different ways, it's always been that way.
The album features some big collaborations with strong female solo stars — M.I.A and rapper Nicki Minaj. Give Me All Your Luvin' was the Superbowl song that ended up causing controversy when M.I.A decided to stick up her middle fin ger.
But that punk spirit is exactly why she got them on board.
She said…
I was looking to collaborate with women who I think have a strong sense of themselves.
They were a lot of fun to be around in the studio, for sure.
I think we were all shy of each other in the beginning, that's just human nature.
I think we got over that pretty quickly.
They're both very self-possessed people, especially M.I.A. I don't think she's impressed much by stars and celebrities, so we just got down to business. I loved her.
And the key to keeping the music original? Don't listen to chart music while you are writing.
She said…
I wasn't listening to anything to tell you the truth, when I wrote this.
I was working on the soundtrack to my movie W.E. So just classical music. I actually don't like listening to pop music while I'm working on pop music — it doesn't really work.
You don't want to hear other people's stuff, you need a clean slate to work off.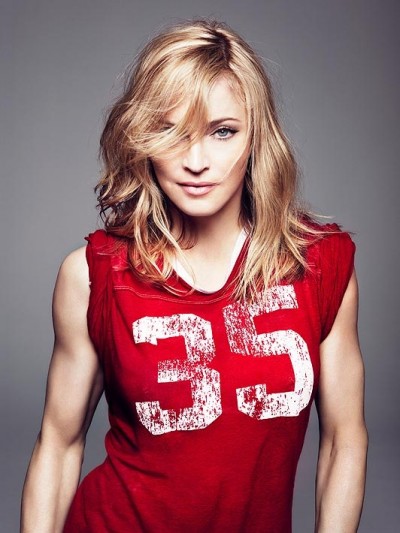 Madame X is available in Box Set, CD, Vinyl and Cassette!
Get your copy HERE!