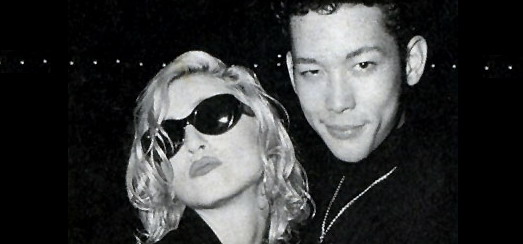 Entertainer Kevin Stea recalls how his life was forever changed when he traveled the world with Madonna during her Blond Ambition tour, which was captured in the documentary "Truth or Dare."
"Camera reloading!" was the phrase that always surprised me. It's amazing how quickly I forgot the cameras were rolling, or even in the room.
The silent men in black hovered at every turn, in every corner, at every prayer session. On the first leg of Madonna's Blond Ambition tour in Japan, I was mugging for the camera and trying so hard to be cool as only a 20-year-old can. Madonna had resisted the intrusive filming at first but, like the rest of us, came to see the film crew as part of the entourage, just like the musicians and bodyguards. The crew entered a room with a smile and a subtle nod, then like ninjas, they crouched in corners or simply froze, becoming part of the interior.
The filming of Truth or Dare happened so organically that it resembled a friendship unfolding. In Texas, during the second month on camera, director Alek Keshishian began conducting personal interviews with us. The questions were frank and challenging. My fellow dancer Gabriel Trupin had gone in before me and was visibly shaken when he came out. After seeing he was upset, I was guarded in my responses, but honestly, I didn't have that much to say of interest at the time. My life until then had been mostly about schools and essays — I didn't have much insight into life to share. I didn't imagine Madonna would be sitting in front of a TV watching me later, but of course she saw all of our interviews. It was one more way for her to get to know us, to know our stories, to see us when we weren't in front of Madonna, the icon.
The first test had taken place months earlier. When Madonna's brother Christopher first called to hire me as associate choreographer, I was stunned, because although I had flipped, popped, whacked, trooped, locked, and Roger Rabbit-ed my heart out, I didn't think I had impressed her at the audition. A few days later Madonna told me to meet her at Club Louie, a tiny little dive run by Steve Antin where they played hot house music. We were about to spend months together; she wanted to know if I could hang. Ten minutes in we were dancing and sweating as if we did it every weekend. I felt like I had been time-warped to the set of Desperately Seeking Susan and the "Into the Groove" scene. I found out she had done the same with the other dancers. I was oblivious to being observed, but I guess my joy of dancing passed the test. She wanted to know who I was when dancing in the dark, offstage. It was smart of her, clever, cool, human. She watched us constantly from day one to see our interactions, group dynamics. She knew her kids.
By the time we hit Europe there was very little we did that hadn't been caught on film. There must be hours of footage of me yanking at my Gaultier underwear or hovering over the craft service table looking for chocolate. Filming had moved into overdrive when they chose Paris for shooting the concert. Every night there was an event, a dinner, or a party. If we had a show the next night, though, when the clock struck 11 Madonna was gone, her time regimented down to the minute. She knew how to maintain herself over the course of a tour. I, however, don't remember at all how I got home one night in Amsterdam, and I only saw the daylight in Madrid at breakfast after a night of clubbing.
Playing Truth or Dare, the game that gave the documentary its U.S. title (outside North America the film was called In Bed With Madonna), in Barcelona wasn't planned. I think it was Carlton who brought it up in conversation with Madonna, myself, and Gabriel (or was it Oliver? Correct me, Madonna-philes!), but it evolved into the most revealing night of the entire tour. I had never been as shocked as I was when Madonna starting performing fellatio on that Perrier bottle or when she French-kissed me like a tipsy sailor on shore leave. I was the one who was still gasping in shock by her constant use of the word "fuck." Later, at dinner, she asked each of us to go around the table and tell each person what we thought of them. It was equal parts hugging and slicing — and absolutely unforgettable.
We were almost finished with the tour when Madonna decided to have interviews with us one by one in bed, and as a group. I felt like part of a litter, climbing all over one another around mama. By that time we had experienced a whole arc of being intrigued by each other, getting to know each other, getting to know each other too well, kind of disliking and then hating each other, then stepping away to find ourselves once more, only to come back and discover we were bonded for life in some way we could never have anticipated. Looking around on the bed, laughing and surrounded by friends, I knew it was something extremely special.
We had become a family in those few months, with the love, dysfunction, drama, and triumph that comes with it. I had learned to respect Madonna as an artist in all forms. More than her music, I came to respect her stand for what she believed in. I had seen her time and time again speak out to defend her music, her show, us, her friends, and freedom of expression. Until those moments, I had never truly realized what a difference a single person can make, how words and images can live forever in the public consciousness.
Only now, in the past seven years or so and from social media, have I actually seen the impact this movie had on pop and gay culture. I constantly receive messages from people recalling how this movie — this bigger-than-life glimpse into a world beyond shame-filled communities, closeted lives, and disapproving families — changed their lives. What I hear most is that it helped people accept themselves and their sexuality, and realize that they could be gay and happy. The stigma attached to being gay in the Reagan-era '80s and lack of visibility in the media had left so many feeling isolated, alone, and different. It brought hope to a whole generation of the LGBT community.
It is easy to forget the social context of Truth or Dare and how far LGBT visibility has progressed. Before this movie, I had seen no gay people on TV and only a few in mainstream films, and suddenly I was one of those few. I hadn't embraced my sexuality either but was openly exploring and discovering it myself on tour. I was fascinated by Luis and Jose Xtravaganza, who had already been out for years, but what did it mean to be gay? Watching the gay pride parade in New York City was informative and confusing. The movie's release "outed" me, though I wasn't sure I was gay. I was attracted to men and didn't deny it, and what I found was a world that embraced me first with open arms and continues to do so.
I was introduced to the whole world on the Blond Ambition tour. I'm so fortunate to have that record of our adventure on camera. It was my coming-of-age and coming-out party, and with a host like Madonna, how could I go wrong?
Truth or Dare will be released on Blu-ray April 3. For more information on Stea and his Kickstarter campaign to create music videos, go here.
Source: The Advocate

Madame X is available in Box Set, CD, Vinyl and Cassette!
Get your copy HERE!