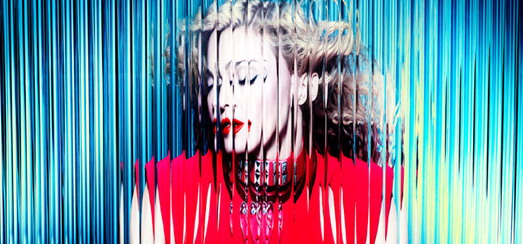 UPDATE
Mika co-wrote the William Orbit track "Gang Bang" and Madonna's brother-in-law Joe Henry shares the writing credits on another William Orbit track "Falling Free".
—
Universal Music Italia just revealed some new information on Madonna's upcoming album MDNA.
MDNA, recorded in New York and LA, reunites Madonna with former collaborator William Orbit ("Ray of Light") who co-wrote and co-produced several cuts on the new album. Other co-producers include Martin Solveig, The Demolition Crew, Marco "Benny" Benassi and Alessandro "Alle" Benassi, Hardy "Indiigo" Muanza, Michael Malih and Madonna.
We already revealed that Nicki Minaj and M.I.A. were featured on the lead single "Give me all your Luvin'" and also featured separately on two different tracks.
Now Universal Music Italia confirms that "I Don't Give A" features Nicki Minaj and, as we already know, "B-day song" features M.I.A.
Other collaborators are LMFAO, Klas Ahlund, Joe Henry and Mika, who co-wrote one of the songs.
The Swedish songwriter and record producer Klas Ahlund has already worked with the likes of Britney Spears and Kylie Minogue, but was also co-writer and producer for the incredible "Body Talk" albums by Robyn.
Madonna's brother-in-law Joe Henry is no stranger and worked with Madonna in the past on titles such as "Don't Tell me", "Jump", and "Devil Wouldn't Recognize You".
They also confirmed that MDNA will be available in two versions:
– Standard version (12 tracks)
– Deluxe version (17 tracks – 2CDs)
Are you excited?

Madame X is available in Box Set, CD, Vinyl and Cassette!
Get your copy HERE!