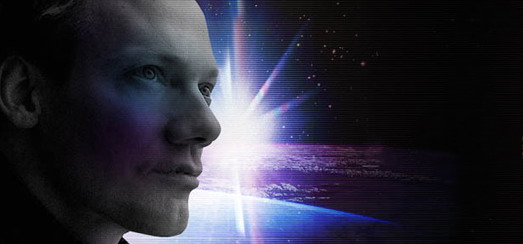 Tonight, William Orbit guest edited the BBC World Services arts programme 'The Strand' this Wednesday the 29th. From Bush House in The Strand, London.
He was interviewed by Marc Coles and of course talked about Madonna and MDNA.
Here's the transcript of the interview..
You've been kind of busy lately with Madonna. Was it six tracks on MDNA, the latest album which is about to come out?
WILLIAM ORBIT: It was six the last time I counted, but we keep adding special tracks.

You keep adding or she keeps adding?
WILLIAM ORBIT: She's driving the train, but I come along happily.

She always says musically you finish one another's sentences. What does that mean, musically? Give us an idea of what it's like collaborating with her?
WILLIAM ORBIT: We definitely been working together for a long time, so there's a certain telepathy. We tend to get into the guitar zone now. We get the acoustics out and do it campfire style.
I'm not a great singer, I sound like a mosquito trapped in a bottle. She's a fabulous singer, but she's very forgiving. She just wants it to work as a song. That's where we start.

You just strum it out and work it out that way?
WILLIAM ORBIT: Yeah, yeah…

You're in touch [with Madonna], you've got to work with her tomorrow?
WILLIAM ORBIT: Probably tonight… What she has decided to do is extra accoustic versions. There's some pretty hard, rocking tracks. There's a very different variation of styles. Mostly pretty savage, actually. The singles that have come out aren't necessarily representative.

She wants to do some sort of more downbeat version?
WILLIAM ORBIT: Downbeat…kind of the banjo and things like that.
Transcript by Madonnarama

Madame X is available in Box Set, CD, Vinyl and Cassette!
Get your copy HERE!