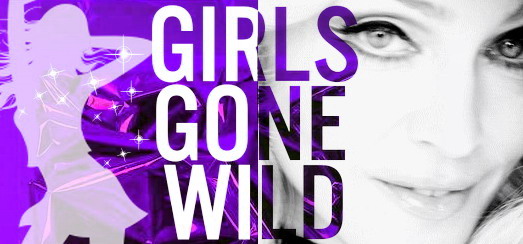 UPDATE #3
The official VEVO Facebook page has been updated with the following…
THIS JUST IN: Madonna lyric video for "Girl Gone Wild" drops tomorrow at 9AM PT/Noon ET, so get fired up like a smokin' gun!
—
UPDATE #2
Benny Benassi gives us more info on the "Girls Gone Wild" lyric-video, that was originally planned to be revealed today.
Madonna's upcoming single "Girls Gone Wild" is produced by Benny Benassi and his cousin Alle Benassi. Now it seems they are both working on a new remix that will be used for the "Girls Gone Wild" lyric video.
He tweeted…
Sorry Guys yesterday i just retweet one wrong information about GGW …. Today me and alle my Producer work. Very hard for a club remix ;

Remix Ready 🙂 ♥ GIRLS AND BOYS GONE WILD FOR MADONNA ♥ #GGW #MDNA
About the official video, Arianne Phillips also tweeted…
Coming to you live from the Girls Gone Wild video set . Are you ready? Madonna at her best.
—
UPDATE
We just got confirmation from VEVO…
Madonna's lyric video for 'Girls Gone Wild' won't go live today and is now scheduled for early next week.
—
Yesterday, website HitsDailyDouble posted a rumour that said VEVO would release a lyric video of Madonna's new single "Girls Gone Wild".
After all the gossip and doubt, Madonnarama can finally confirm that it's true!
A VEVO spokesperson told Madonnarama…
As of right now, we are planning to premiere the lyric video to Madonna's new single "Girls Gone Wild" tomorrow on VEVO
We can also give you a taste of what it's like!
"Girls Gone Wild" opens up the way "Like a Prayer" (the album) closes: with an "Act of Contrition" spoken by Madonna.
The snippet included in the iHeartRadio MDNA megamix doesn't really do the song justice.
The beat of this song is simply insane!
It's the most danceable pop song you've ever heard!
We can expect the remixes to kill everything.
It's all about a good girl wanting to have fun on the dance floor ("in the zone") accepting her status of bad girl… and it's a little autobiographical too: "I know good girls don't misbehave, but I'm a bad girl anyway".
Still, towards the end, Madonna whispers "Forgive me"…

Madame X is available in Box Set, CD, Vinyl and Cassette!
Get your copy HERE!