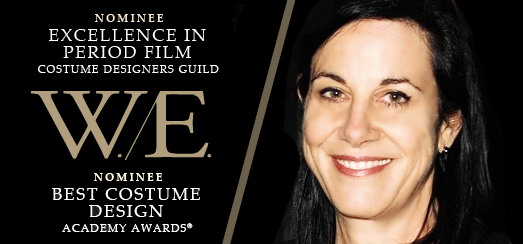 Arianne Phillips received her second Oscar nomination last month for W.E., which has an absurd amount of use for her skills.
Years before W.E. materialized Phillips has been living her own double-sided career "by design".
Arianne speaks with a mixture of confidence, sincerity and appreciated bluntness…
Watching W.E. I kept asking myself "Is Madonna trying to break 'Evita"s record for most costume changes in a movie?"
Arianne Phillips: I know! Any biographical film – I've done a couple like Walk The Line and The People Vs Larry Flynt – are usually telling a story over a period of time. So, what better way to illustrate that time passage than costume changes and hair and makeup? It's just kind of inevitable with the construct of these kind of films. I don't think Madonna and Alek Keshishian, when they were writing the script, were aware of the hungry machine a biographical film can be for costumes changes. It became one of our inside jokes. She kept saying 'Oh my goodness, my next film is going to be two people in a room!'.

You've had a hand in so many of Madonna's great iconic looks. That's been a long and fruitful collaboration.
Arianne Phillips: It has. Everything she does is iconic but thank you.

Do you have a shorthand with her now?
Arianne Phillips: Absolutely. It's my most long-term relationship. I mean, fourteen years in a world of freelance? That is a lifetime. I think, we have a similar sensibility and a similar communication style as well as aesthetic. We have definitely created a shorthand over the years and mutual understanding. I can understand a gesture. I can understand so much, because I've worked with her in so many different capacities. But it doesn't keep me less on my toes. I mean, she's constantly evolving as a woman and as an artist. She's definitely always bringing some new challenge which is what's kept me there, really. She's very very brave. She steps out of her pop star role to stretch herself as an artist, for instance being a director on this movie.
It's been an incredible journey, as you can imagine, to be there and watch her evolve and keep pushing herself. It's very inspiring. It's not like I'm doing anything different. I mean, I get to do different things, different disciplines, whether it's a tour, video, photoshoot, play, film – it keeps changing for me, but she's the one pushing herself. It's really, really great.

An image popped into my mind as we've been talking about this. Her sleeves stretching all across the stage in the the "Drowned World Tour". Do you remember that?
Arianne Phillips: Yes, of course! That was a costume idea that I thought of.

It translated into such an epic moment on that tour.
Arianne Phillips: Thank you. I thought so, too. It was a nightmare that I thought it up! Sometimes you have these great ideas, and then you have to make them work. A lot of engineering went into that.

How much do you have to work with other departments on technical things or in general with costume design?
Arianne Phillips: Always. Always. On that same tour Madonna and the dancers were also suspended by wire in the flying section. That same section. There are always a lot of challenges when you are trying to think outside of the box, using your imagination and pushing yourself.
I've chosen a career that's about collaboration by choice and not a painter or writer working alone in a room. My job is better and reaches new heights based on the collaboration side. That is intrinsic in the job, and why I love my job so much.

Which films are you most proud of?
Arianne Phillips: …And then of course 'W.E.', which was a beautiful world to live in, in terms of the jewelry, the fashion and the romantic side. And being able to work alongside Madonna on the other side of the camera. That was a real treat and something I've wanted to do for a long time.
source: The Film Experience

Madame X is available in Box Set, CD, Vinyl and Cassette!
Get your copy HERE!