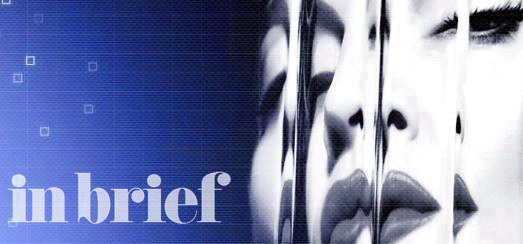 Madonna's Back-Catalog Digital Sales Up 77%
Madonna's overall download track sales went from 94,000 in the week ending Feb. 5th, 2012 to 166,000 this past week (up 77%). (That does not include sales of her new single, "Give Me All Your Luvin'".)
Her best-selling catalog song of the Feb. 12th, 2012 week was "Like a Prayer", which sold 49,000.
Her 1989 classic "Like a Prayer" enters the Hot Digital Songs chart at No. 38.
She closed her Super Bowl performance with the song.
Madonna extends her lead for the most top 10s (38), as "Give Me All Your Luvin'" jumps from 13 to 10.
Madonna World Tour dates sell out quickly
The ticket sales for Madonna's upcoming world tour dates are still being sold out in record times.
The second date in Berlin is already sold out and all 65 000 tickets for the outdoor September show in Quebec City sold out in less than an hour!
If you're still looking for tickets, get them at the official Madonna World Tour partner:
28 June 2012, Berlin – Buy tickets HERE
30 June 2012, Berlin – Buy tickets HERE
01 Sept 2012, Quebec – Buy tickets HERE
Adele beat Madonna's record for the longest chart reign for a female solo artist
Adele's second album, 21, named after her age when she wrote it, topped the charts in 10 countries and sold 3.7 million copies in the UK and 5.5 million copies in the US last year.
She beat Madonna's record for the longest chart reign for a female solo artist. It was a record held by Madonna for 21 years but Adele has broken it with her second album, coincidentally entitled 21, which on Sunday topped the UK charts for the 10th consecutive week – the longest ever for a UK album by a female solo artist.
Madonna's single drops out of UK Top 40 after only one week
Just a week after entering the British charts at a lowly 37, the song – first taste of Madonna's new album, MDNA – looks likely to drop out of the top 40 completely this weekend. The latest figures suggest it could plummet down to 51 by tomorrow if current sales levels continue.
It is one of the worst showings in almost three decades of chart hits for Madonna in a career that has generated 13 UK number ones.
Give Me All Your Luvin' was her first new track for three years – and a first release under a new three-album deal she signed with music giant Universal.
Madonna "The Advocate" cover Pays Homage to "Neon Rose #12"
The March 2012 issue of The Advocate (pictured below, left) kicks off our 45th Anniversary, and what better way to pay homage to that year than pairing one of its most iconic images with today's biggest pop icon? Neon Rose #12 (right) was created by psychedelia artist Victor Moscoso in March of 1967 for a Chambers Brothers concert in San Francisco. The famous poster has appeared in museums across the country, including New York's Museum of Modern Art.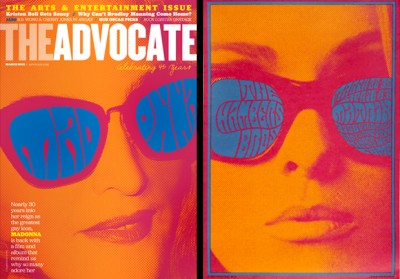 Madonna's Concert in London Will Go On
Madonna's concert in Hyde Park on on July 11, is set to go forward despite complains by local residents about the noise. NME reports that the shows in Hyde Park had received complaints and were possibly at risk, but Westminster Council's licensing sub-committee met today and found a compromise over the park's use. There will be less overall events staged in the summer and less people at the shows to start in 2013, when the number of concerts will drop to nine and the capacity will drop from 80,000 to 65,000-50,000.
There are also new conditions that will take place immediately including more stewards on site, more rules for cleaning the site after shows and more sound monitoring points in order to reassess the volume of music with repetitive beats.
Charlie Hunnam: Madonna's older than my mum
Charlie Hunnam who's got the leading role in U.S. TV series Sons Of Anarchy recently gave an interview to the Daily Mail. He explained that Madonna, who remembered him from Queer As Folk, invited him to dinner at her home. When asked if he was intimitaded by her, he answers…
"A little bit, and I was definitely intimidated. I'm not very savvy and I got into a lot of trouble with her once. We were seeing each other a bit… although it wasn't a physical thing. And she came up to me to give me a hug one day. Someone asked me if there was anything going on between us. I blurted out, 'Are you kidding me? She's older than my mum!' She wasn't too thrilled."
Madonna In Hello! Magazine "Most Elegant Woman" Poll
Madonna's Golden Globes outfit this year got nearly 5000 votes in Hello! magazine's poll to find out, who wore it best, reaching the second place.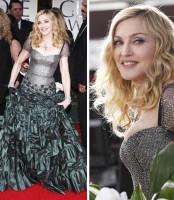 Jeremy Scott: Madonna wanted me to be involved
While at an in-store appearance at the New York Adidas Original store during Fashion Week, the designer spilled the beans about his participation in Madonna's Super Bowl Halftime Show, which was kept a secret until that night.
Scott said to WWD he knew Madonna's dancers would don his Adidas product since this past November…
"She asked me to be involved since the moment she was asked to perform.
I was just under so many signed contracts, that I couldn't speak a word until after it ran."
Percussion director Josh Torres Talks About The Super Bowl
Center Grove High School percussion director Josh Torres, 30, has been keeping the beat with drums and other instruments since the fifth grade.
It was those ties that led him into an awesome opportunity – he assembled and directed the 100-member drum line that performed along with Madonna and other artists during the Super Bowl Halftime Show last week.
Torres said to Indystar…
"Each year, the NFL hires a performer (and) a production company that helps make sure that artist fits into the scheme that the Super Bowl Halftime Show requires. At some point, the phone call came from Madonna's people that they need a 100-member drum line for the halftime show. The production company then called looking for local talent that could help make the event a reality. DCI recommended me based upon my track record with Center Grove High School's percussion program. I was completely stunned to receive the phone call. I keep telling people it's a once-in-a-lifetime event, but the reality is it's a never-in-a-lifetime event. So, my first reaction was, I don't care what you say next, the answer is yes.
Indiana is a hotbed of talent when it comes to high school drum lines. Initially, I thought that she just needed a normal size drum line. What was I thinking? This is Madonna. Of course, it's going to be larger than life. As soon I found out that we needed 100 performers, I got on the phone and called a few of the directors that Center Grove regularly competes against. I told them 'I know that we are busy preparing for competition season, but how can anyone pass this opportunity up?'
Madonna's people made it clear from the start: No details could be leaked. They told us that we would be removed from the show, if the details were leaked to the press or social media. Everyone that participated in the event had to sign a non-disclosure agreement. Even our principals had to sign a non-disclosure agreement.
Then, once we started rehearsing, they had to sign a five-page packet full of non-disclosure agreements and waivers. Finally, we had to fill out another agreement the day before the game.
I basically just told all of the students they could tell their parents, and that was it. They couldn't tell their friends, extended family or even teachers. We kept it a secret from the entire community. I was very proud of the kids for sitting on the details of this event. It was a very hard secret to keep."
More Madonna World Tour trailers
We already posted a first batch of Madonna World Tour trailers (watch HERE).
Here is the second one…
Belgium
Denmark
Portugal
Madonna's Super Bowl performance revisited
Brazilian Madonna fans performed their own version of Madonna's Super Bowl performance.
Have a look…
Thanks @capshaw374