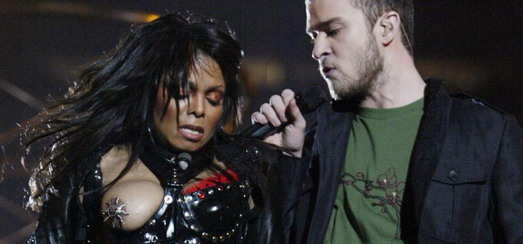 During an interview with Neil Rosen, from NY1 Madonna spoke about her upcoming Super Bowl performance…
Since that wardrobe malfunction incident with Janet Jackson, [the Super Bowl halftime show] have always been those safe-type performances. So have you mainstreamed or are you planning a naughty surprise or something?
Madonna: How about no to both of those questions? I have not mainstreamed and I'm not planning anything naughty. I'm planning something super entertaining. Yep, yep! You don't have to show nipples to be interesting. It doesn't necessarily mean you're cutting edge if you do, right?
The video…
Do you think Madonna was disrespectful towards Janet Jackson?
Well, Gil Duldulao, Janet Jackson's choreographer, who also worked with Madonna on the GAP commercial, did.
He went on Twitter to release some steam…
U don't have to kiss a girl on stage to be cutting edge or interesting. Lol

How about adopting a kid when everyone was doing it. Ok I'll stop. Cutting edge.

Damn heroin addict

So many of those instances that def was cutting edge and interesting. Look at your resume boo.

Noones talking about that addiction. Real t. Get help

U go in on mine. I'll go in on yours. It's natural.

U have children. Worry about raising them then talking to hear urself talk- role model. Ok done for the day. Muah kiddos. Lol.

Look I intend on having children one day. And I sure hope I ain't acting and sayin foolish things at that age. For my kids sake.

At least the tit is real. Lovely and sickening ,boom
At the Grammys, back in 2004, Madonna spoke about the whole Janet Jackson-Super Bowl wardrobe malfunction and all the reaction it got…
Did you find Madonna being disrespectufl towards Janet Jackson?

Madame X is available in Box Set, CD, Vinyl and Cassette!
Get your copy HERE!