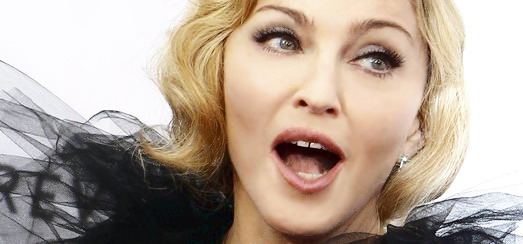 Madonna gave multiple interviews yesterday on the red carpet at the Ziegfeld Theatre in New York in honour of the preview of her latest movie W.E.
She talked about her movie, her upcoming album "M.D.N.A.", the Super Bowl and Elton John!
When Extra addressed the Elton John/David Furnish feud after she won the Golden Globe for Best Song, Madonna told them…
You know what, honestly, I was oblivious to it all. It was brought to my attention afterwards and I don't… I just keep going and don't pay no mind to things like that.
I was really surprised, I have to say. I always say, 'Don't expect to win and if you do, you're pleasantly surprised.'
She also joked about her busy work schedule…
My head is spinning. By the time you interview me, I can't think straight.
On the Super Bowl…
I'm halfway through my rehearsals. I've never worked so hard in my life to make a show.
I'm gonna dance and sing my butt off.
[I'm working] so hard, so hard! I have a pulled hamstring right now.
You might notice this little red dot on my nose… I wounded myself with my microphone.

I know what songs I'm doing, I have my guest artists, I know what I'm wearing, and I just hope I can negotiate the high heels I have to dance in.

Am I prepared? I will be come February 5th!
In choosing sides for the football game of the year between the New England Patriots and the NY Giants, Madonna asserted…
It's a tough one… I'm just focusing on my performance okay, don't ask me to take sides!
MTV also had a chat with Madonna. Asked whether the ladies will join her at the Super Bowl, she coyly responded…
I am not saying 'Yes,' and I am not saying 'No.' "
The only tease she wanted to give was…
Pom poms. That's all I can tell you.
Sources: Extra, Access Hollywood, ET Online, MTV
Transcript by Madonnarama

Madame X is available in Box Set, CD, Vinyl and Cassette!
Get your copy HERE!