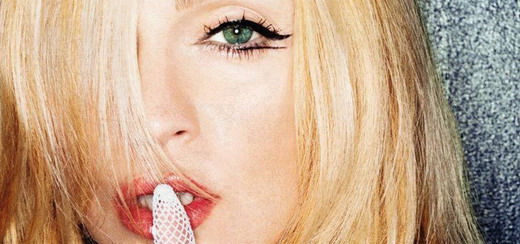 RuPaul on Madonna and Lady Gaga
Famous drag queen RuPaul was a guest on Andy Cohen's "Watch what happens live" a few days ago. When asked if Lady Gaga's "Born this way" was very evocative of Madonna's Express Yourself he replied…
Oh, hell yes!
David Furnish bashes Madonna… again, but finally apologises
Elton John's Husband David Furnish already slammed Madonna a first time…
Madonna is desperate and embarrassing
Madonna. Best song???? Fuck off!!!
Madonna winning Best Original Song truly shows how these awards have nothing to do with merit.
Her acceptance speech was embarrassing in its narcissism.
And her criticism of Gaga shows how desperate she really is.(sic)
Then he told what he tought of Madonna's win at the Golden Globes for "Best Original Song" with Masterpiece a second time, but to the NYpost…
I think it was a fluke . . .
When this happens you have to question the integrity of the awards. Did Madonna get the Golden Globe because she attended the awards and agreed be a presenter?
Can you sing Madonna's song?
Can you hum it?
It's a song nobody has heard, from a film few have seen.
The award should have gone to Mary J. Blige or Elton.
I like Madonna's music, but not her movies.
She should stick to what she is good at.
Now he just posted the following on Facebook…
Wow! What a tempest in a teapot. My comments regarding The Golden Globes have been blown way out of proportion," David wrote. "My passion for our film "Gnomeo & Juliet" and belief in Elton's song really got my emotional juices going. But I must say for the record that I do believe Madonna is a great artist, and that Elton and I wish her all the best for next week's premiere of the film "W.E."."
Think before you post something on Facebook…
Madonna photographer Curtis Knapp releases iPad app
Yesterday, Wednesday 18 January 2012, Curtis Knapp released an iPad app on iTunes. It's a coffee table book for the iPad, titled: ICONS – THE PORTRAIT PHOTOGRAPHY OF CURTIS KNAPP.
Madonna's first magazine cover ever for Island Magazine and shot by Curtis himself is the cover of the app, which also has audio.
Over 50 people are included, some of which feature more than once.
The introduction has been written by the incredible "Boardwalk Empire" actor Steve Buscemi…
The photos make all of them, even the people I've never met, seem like old friends. I can't really explain it, but Curtis captured something personal, simple, and familiar with every shot he took.
You can buy it now on the iPad app store!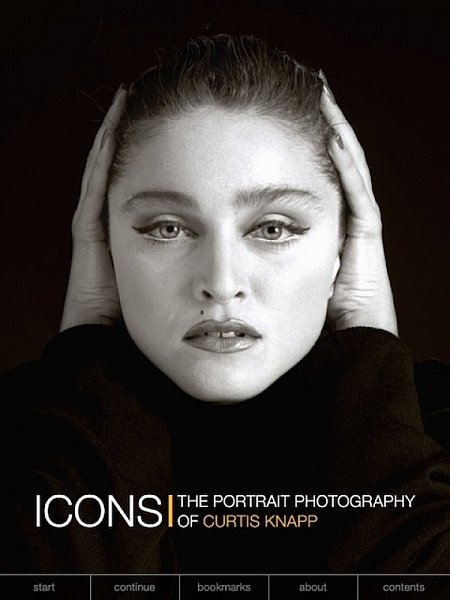 For Madonna Fans:
Curtis Knapp will start printing Original Photograph prints (16X20 inch) next month. Images being printed will be in an Edition of 35 only.
For any inquires or small samples please write the studio [email protected]
I Want my MTV
A new book 'I Want My MTV: The Uncensored Story of the Music Revolution' by Craig Marks and Rob Tannenbaum features some fun facts, including Madonna…
On the set of the Black or White video, director John Landis had to keep asking Michael Jackson to stop grabbing his crotch and rubbing himself on camera. "Madonna does it. Prince does it," Jackson pointed out. "You're not Madonna or Prince," Landis replied. "You're Mickey Mouse."

When Sinead O'Connor's Nothing Compares to U beat out Madonna's Vogue for the Video of the Year award, Madonna was furious ("Sinead O'Connor has about as much sex appeal as venetian blinds") and Sinead gloated ("I was very pleased to beat the s— out of her.")
Signed Madonna W.E. Poster
Want to win a signed Madonna W.E. poster? Join the Diamonds of W.E." Sweepstakes.
Here are the rules…
Buy tickets for any show time between Jan. 19 – Feb. 5 for W.E. and you could win diamond jewelry from Zales as well as the soundtrack and poster autographed by Madonna in the "Diamonds of W.E." Sweepstakes.
More info here!
Piers Morgan isn't over Madonna
Piers Morgan, who can't seem to get any good ratings on his talk show, bashed Madonna again this year. He already said she wasn't welcome on his show, but apparently he can't get enough of Madonna!
When asked by The View hosts including Barbara Walters, Whoopi Goldberg and Joy Behar what he thought of the Madonna's appearance at the Golden Globes, he replied…
Grotesque. Why would any woman want to look like a caveman? I'm serious.
Somebody is in a desperate need of attention…
Taylor Armstrong is a fan of Madonna
Taylor Armstrong from the "Real Housewives of Beverly Hills" idolizes Madonna…
My first idol was Madonna and the fact that this woman has been able to reinvent herself over and over and somehow still has the hottest arms on the planet is unbelievable to me.
Madonna Flash Mob
Do you want to participate in a Madonna flash mob? Here's your chance:
Madonna will perform at the Super Bowl half-time show in February and Bay Area Flash Mob will celebrate Madge with a flash mob on Saturday, February 4 between noon and 4pm at several locations of San Francisco.
They will perform a Madonna Medley including Don't Tell Me, Express Yourself, Holiday, Music and Vogue. You can learn all these songs from our dance tutorial videos available on the following link: http://bayareaflashmob.com/Tutorials.aspx
To participate, you need to learn at least the final song of the Medley: "Vogue".
More info at Bay Area Flash Mob.

Madame X is available in Box Set, CD, Vinyl and Cassette!
Get your copy HERE!