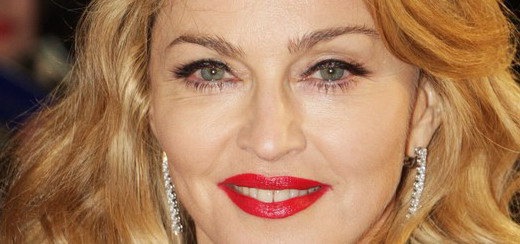 When Madonna was asked what "M.D.N.A." stands for at the London premiere of W.E., she replied…
What does M.D.N.A. stand for?
Madonna.
I just like to play on words… triple entendre.
I think it's going to be an exciting year.
—
On the red carpet, Madonna gave a little interview to British magazine Heat, mentioning her next album…
Heat: Would you ever give up the power of your celebrity for true love?
Madonna: Maybe. Why not?

Heat: You look amazing – what's your secret?
Madonna: Um, love?

Heat: And Fairy Dust…
Madonna: Yeah that, and fairy dust. I don't have a secret, just being happy.

Heat: Would you ever consider making a musical about your life?
Madonna: Oh God no!

Heat: Would you sanction one though?
Madonna: Why not, Yeah. Aren't all my records and everything I do over the years, the musical of my life anyway? More or less.

Heat: Are you aware your album title "M.D.N.A." sounds like the class-A drug "MDMA"?
Madonna: It sounds like my name MA-DONN-A – where is your head at, baby?
—
According to NME, Madonna has been criticized by anti-drug campaigners over her decision to title her new studio album 'MDNA'.
She revealed the title of her 12th studio album during a pre-recorded interview with Graham Norton for his BBC1 show yesterday (January 11) and has said it will be released on March 12.
Though the album title is an abbreviation of Madonna's name, it is also similar in sound to the name of Class A drug MDMA and for this reason it has been criticized by anti-drug campaigners.
Lucy Dawe, a spokesperson for the campaign group Cannabis Skunk Sense told The Sun that Madonna's choice of album title was "an ill advised decision".
—
While recording an interview for Graham Norton's "BBC" show, to be shown tomorrow night, Madonna also revealed that she was just like every other harassed mother of teenagers. She told how her 15-year-old daughter Lourdes raids her wardrobe to steal her clothes and often shows her "no respect".
She said…
"She is 15, but she's very sophisticated for her age. I don't even have to ask, and she gives me her opinion.
I play her songs and say 'What do you think. Like it, don't like it? Cool, uncool?' She's very opinionated.

If I say to my daughter 'that outfit is a little bit too risqué', my daughter will look at me and say 'that's rich, coming from you'.
And she borrows my clothes a lot. She's always sneaking into my room at six in the morning, when I'm sleeping.
She loves these combat boots that I wear. Maybe she loans them to her friends, because I don't see them for weeks.

She doesn't like the fact she still has a nanny, but I have four kids; so I need someone to look after them.
My nanny said 'You've got to give your mum her boots back'.
She said 'Whatever, she'll get over it'. I was thinking 'Wow, she doesn't hear me at all'. I don't care about the boots, it's her attitude.
When I'm at home with my children …. I hear all the complaints and all the moaning, and I still have to threaten to kill them, if they won't do their homework.

I don't want any of my children to leave me. I'm locking them in the house."
source: dailymail