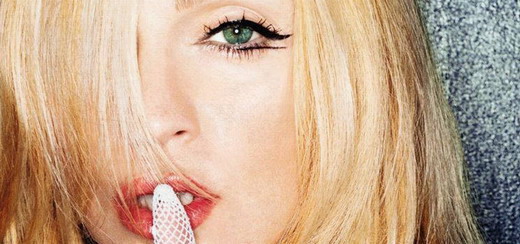 No Nervo Twins on Madonna's upcoming album
Back in September the Nervo Twins revealed in an interview to allexclusivemusic.com that Madonna has expressed a major interest in recording one of their songs for her new album.
In a recent interview with the Herald Sun they said the next single was the track Madonna looked at for her new album and added…
Her team of people approached us and expressed interest, and then it fizzled out.
Sky Ferreira as Madonna
Sky Ferreira just tweeted a picture of her as Madonna shot by Mario Testino for the upcoming issue of V Magazine.
She also said, in a reply to MuuMuse, there will be 14 more photos, including True Blue and Blond Ambition!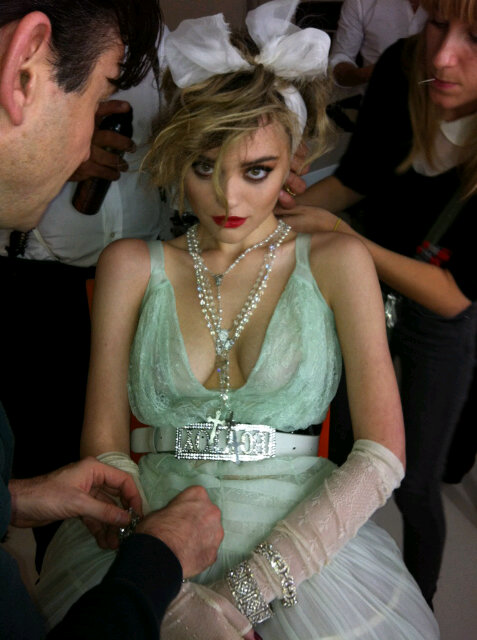 Magic's "The World's Greatest Party Classic!"
Back in November we asked everyone to vote for Madonna on radio station Magic's "The World's Greatest Party Classic!"
Madonna was nominated three times with her smash hit singles "Holiday", "Hung Up" and "Into The Groove."
Here is the top 3:
1. Holiday – Madonna
2. Hung up – Madonna
3. Into the Groove – Madonna
What can we say… Madonna fans came together and made it happen!
A good way to start 2012.
Scissor Sisters, Azealia Banks and Madonna
The Scissor Sisters just released the video of their latest single "Shady Love" featuring the amazing Azealia Banks.
Madonna is mentioned in the lyrics…
she gon' vote for Obama and she likes to dance to Madonna
and the video…
Madonna and Kylie Minogue Duet
Dean Piper, columnist for the Sunday Mirror, heard an interesting rumour…
PLEASE let this come true! I hear KYLIE MINOGUE has HUGE plans for 2012 – including a dream duet with her pal MADONNA. This year will be big for Kyles when she celebrates 25 years in the music biz and plans are afoot for a big ITV special celebrating her career. Apparently the plans include more than one duet. My source tells me: "There will be lots of duets. The plan so far is for a duet with her sister DANNII, NICK CAVE, JASON DONOVAN and a finale featuring a duet with MADONNA." The ladies have worn T-shirts with each other's names on in the past – so they clearly think they're both tops!
To be confirmed…
Jessie J is thankful for Madonna
Jessie J recently told British newspaper Daily Star…
Many young people speak bad of Madonna and Britney Spears, which does not seem fair because thanks to them, Gaga, Rihanna, Beyonce, ke$ha and I, exist. They are the two best divas of music.
Thanks to them there are many pop stars of today, I know how be thankful for that.
OUT's "The Gayest Songs of the 1980s and 1990s"
Gay magazine OUT posted their favourite gayest songs of the 80s and 90s. A couple of Madonna's songs made the list, but curiously "Vogue" is nowhere to be seen…
The 25 Gayest Songs of the 1980s
I Know What Boys Like – The Waitresses
Johnny Are You Queer? – Josie Cotton
Smalltown Boy – Bronski Beat
Relax – Frankie Goes to Hollywood
Never Say Never – Romeo Void (original version)
It's Raining Men – Weather Girls
A Little Respect – Erasure
Do You Really Want to Hurt Me – Culture Club
The Charming Man – The Smiths
The Loco Motion – Kylie Minogue
It's a Sin – Pet Shop Boys
Father Figure – George Michael
I'm Coming Out – Diana Ross
True Colors – Cyndi Lauper (album version)
Under Pressure – Queen & David Bowie
Sexual Healing – Marvin Gaye
Man in the Mirror – Michael Jackson
Into the Groove – Madonna
Blue Monday – New order
What Have I Done to Deserve This – Pet Shop Boys
Whip It – Devo
Dude Looks Like a Lady – Aerosmith
Express Yourself – Madonna
I Want to Dance With Somebody – Whitney Houston
Boys Say Go! – Depeche Mode
The 50 Gayest Songs of the 1990s
Secret – Madonna
Walking On Broken Glass – Annie Lennox
That's The Way Love Goes – Janet Jackson
Sexy Boy – Air
32 Flavors – Ani DiFranco
Emotions – Mariah Carey
S**k My Left One – Bikini Kill
The Boy Is Mine – Brandy & Monica
It's Oh So Quiet – Bjork
Around the World – Daft Punk (radio edit)
Nothing Compares 2 U – Sinead O'Connor
Free Your Mind – En Vogue
Panik – Bratmobile
Short Dick Man – Gillette
Pansy Twist – Huggy Bear
Canned Heat – Jamiroquai
Glory – Liz Phair
Everything I Need – Melissa Ferrick
Remember The Time – Michael Jackson
Livin' La Vida Loca – Ricky Martin
Show Me Love – Robyn
Rhythm Is A Dancer – Snap
Self Obsessed And Sexxee – Sonic Youth
Waterfalls – TLC
Stay – Sheakespear's Sister
Girls and Boys – Blur
Barbie Girl – Aqua
Believe – Cher
Nobody's Supposed To Be Here – Deborah Cox (album version)
Groove Is In The Heart – Dee-Lite
If You Should Try To Kiss Her – Dressy Bessy
What's Up – 4 Non Blondes
Queer – Garbage
What Is Love – Haddaway
I Kissed A Girl – Jill Sobule
Constant Craving – k.d. lang
Be My Lover – La Bouche
The Luckiest Guy On The Lower East Side – The Magnetic Fields
I'm The Only One – Melissa Etheridge
She's A Bitch – Missy Elliott
Shiny Happy People – R.E.M.
Whatta Man – Salt-N-Pepa Featuring En Vogue
Jenny – Sleater-Kinney
Say You'll Be There – Spice Girls
Pink Triangle – Weezer
Your Woman – White Town
Deceptacon – Le Tigre
Ray Of Light – Madonna
You're Makin' Me High – Toni Braxton
Honey – Mariah Carey
Outlook-Durex Sex 'Top 16 Most Attractive Celebrities' 2011 survey
The Outlook-Durex Sex 2011 survey polled which celebrities that Indians find most attractive. Madonna came fourth in the list of female celebrities.
1. Vidya Balan
2. Salman Khan
3. Madhuri Dixit
4. George Clooney
5. Pamela Anderson
6. Rahul Dravid
7. Madonna
8. Rahul Gandhi
9. Arundhati Roy
10. Imran Khan
11. Chanda Kochhar
12. Anand Mahindra
13. Hina Rabbani Khar
14. Shashi Tharoor
15. Hillary Clinton
16. Arvind Kejriwal
Madonna as Jackie O
John F. Kennedy Jr. asked the Material Girl to dress up as his mother for the cover of his magazine, George, but Madonna declined, insisting she would "never do [Jackie O] justice," according to a new book.
"We'll have her in a pillbox hat, sitting on a stack of books," JFK Jr. told his assistant, RoseMarie Terenzio, author of the memoir, "Fairy Tale Interrupted," which chronicles her five years as John John's confidante and publicist until his untimely death in 1999 at the age of 38.
In the summer of 1996, JFK Jr. asked Terenzio who should grace the cover of his September "Women in Politics" issue.
Terenzio suggested then-First Lady Hillary Rodham Clinton, but JFK Jr., who co-founded the magazine in 1995, had a different idea.
"I think we should dress Madonna up as my mother," he said. "Wouldn't that be a riot?"
Terenzio thought he was joking; Madonna was then at the height of her bad-girl image.
She warned him it would create a media "s–tstorm."
And although Terenzio insists it wasn't among her concerns, the cover would have undoubtedly raised eyebrows given JFK Jr.'s once-rumored romance with Madge, who was often compared to his father's reputed paramour, Marilyn Monroe.
"If it doesn't bother me, why should it bother anyone else?" Kennedy said.
So they drafted a letter to the "Like a Virgin" singer, asking her to pose as Jacqueline Kennedy Onassis.
The next day, Madonna faxed her handwritten response, flirtatiously addressed to "Johnny Boy."
She wrote…
My eyebrows aren't thick enough, for one.
When you want me to portray Eva Braun or Pamela Harriman, I might say yes!
Referring, bizarrely, to Hitler's mistress and the British socialite who married New York Gov. W. Averell Harriman and Winston Churchill's son Randolph.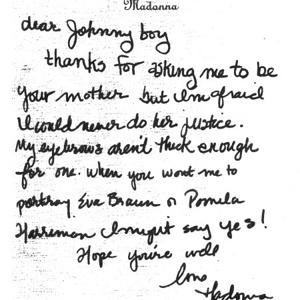 JFK Jr. eventually tapped actress Drew Barrymore for the cover, portraying, ironically, Monroe in her legendary white halter dress singing "Happy Birthday, Mr. President."
Terenzio, whose book is due out on Jan. 24, says there was nothing untoward at the time of the fax between the Material Girl and the heir to Camelot.
In fact, later that month, JFK Jr. married his longtime girlfriend, Carolyn Bessette.
Car accident in Gstaad
Like we posted on our Twitter and Facebook…
Update from #Gstaad : According to sources #Madonna was in a minor car accident, but she's fine.
Nothing confirmed or denied…

Madame X is available in Box Set, CD, Vinyl and Cassette!
Get your copy HERE!