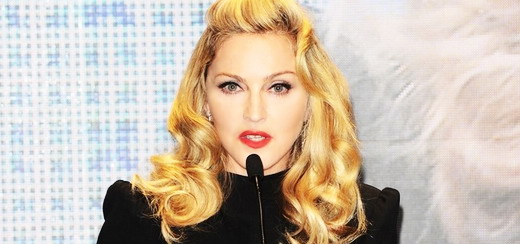 The Gucci Award cocktail and dinner event was held Saturday at the "Hotel Cipriani", where the rustic, red brick walls of converted, expansive barns contrasted with white "Murano" chandeliers and "Gucci"'s sleek black tables and mirrored fixtures.
During a brief speech, Madonna, wearing a Forties-inspired black "Gucci" gown, said it was "surreal" to be in Venice with a movie she directed, "W.E.", and to present the inaugural award…
"I was in Venice for the first time at the beginning of my career, singing 'Like a Virgin' on a gondola trying desperately to convince everyone that I was. At one point, I forgot to duck [hitting a bridge], and maybe I haven't recovered yet."
Later, after she presented the award to actress Jessica Chastain for her performance in "The Tree of Life" Madonna gave an interview to WWD explaining she was relieved after the screening of "W.E." the previous night…
"I'm really pleased that the audience was very welcoming and attentive to the movie."

"I love the idea of bringing attention to women in films.
It's not true that there aren't that many women, but they go unknown."

"I'm a huge fan of 'The Hurt Locker' director Kathryn Bigelow. I was so happy she won the Oscar, so cool."

"It's not true (on rumors that she's mulling the buying a villa outside Venice). Every time I go somewhere, they say that, but enough houses."
During the gucci Award ceremony, the actress Jessica Chastain who was awarded the inaugural "Gucci Award for Women in Cinema" for her performance in Terrence Malick's film "The Tree of Life", said…
"I couldn't think of a better example of an intelligent, creative and dynamic woman than Madonna."
Evan Rachel Wood also mentionned how happy she was to meet the Queen of Pop…
"Madonna kissed me on each cheek."
The New York Daily News confirmed what Madonna said about the audience welcoming W.E. in an article saying that Madonna may not have charmed film critics with her second directorial effort, but her movie got a "10-minute standing ovation" from the crowd that saw the premiere of "W.E.", in the "Sala Grande" on Thursday.
Adapted from articles in WWD, NY Daily News and Daily Beast

Don't forget to pre-order Madame X!
Pre-order links available HERE!