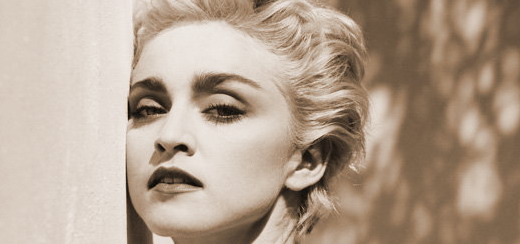 Celebrate Madonna's True Blue Anniversary
Madonna facebook page is celebrating the 25th anniversary of "True Blue" with a contest for a chance to win a personalized signed copy of Madonna's "True Blue" album!
Watch this…
Also, Madonna's iPhone app has unveiled an exclusive sticker for fans to check into. Get the Madonna iPhone app and unlock it right away…
Madonna's Message to Kylie Minogue
Via Guy Oseary's Twitter…
@kylieminogue thanks for the love -M
Frozen (Monsieur Adi Conclusion Remix)
Listen to Monsieur Adi new remix for Madonna's 1998 hit single, Frozen…
Madonna – Frozen (Monsieur Adi Remix) by arjanwrites
Madonna's Hard Candy Fitness Website Launch
Madonna's Hard Candy Fitness website is now up and running including a section called Hard Candy Land where Madonna will be posting her favorite playlist to work out. Visit Madonna's Hard Candy Fitness website!
Madonna Teaches Straights How to "Vogue"
Billboard Magazine lists 20 Great Gay Moments In Music including stars paying tribute to Freddie Mercury, Ricky Martin revealing his homosexuality, Elton John, Lady Gaga and Madonna.
The video comes with the following…
Madonna had already established herself as an advocate for LGBT rights and causes in the '80s, but she took her gay-positive message to a different level when she introduced mainstream America to vogueing, a flamboyant style of dance which dated back to the 1960s underground drag-ball scene. Released in 1990, "Vogue" soared to No. 1 on the Billboard Hot 100 and came with a striking black-and-white video that taught the world how to strike a pose. More than 20 years later, you'll still find everyone from fratboys to grandmas giving good face whenever the song is played. — Keith Caulfield
The BS Rumour
Rumour has it Madonna has allegedly refused to work with Lady GaGa producer RedOne on tracks for her new album. How blah is that?
The Party You Don't Want to Miss
Madonna's London Birthday Party will be held at G-A-Y Late in Goslett Yard (next to Tottenham Court Road tube station) on Saturday 13th August 2011, with doors opening at 2pm and the party celebrations going on until 10pm.
This is the 17th London Madonna Party, and as usual entry is FREE! The prize giveaways are free throughout the afternoon and evening – you just need to be in the venue at the time of the prize draws to WIN Madonna goodies.
For more information please visit madonnafanparty and don't forget to RSVP on the Facebook Event Page!
Have a look at the flyer…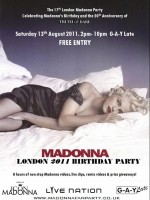 Sidewalk Talk remastered
Jellybean Wotupski!!?! LIMITED EDITION of 2000 CD's is in stock and shipping.
Contains bonus tracks and a 16 page booklet with 5000 word essay and interviews with various artist involved in this project! Available for $9.99 at GoldLegion.com for a limited time.

Madame X is available in Box Set, CD, Vinyl and Cassette!
Get your copy HERE!