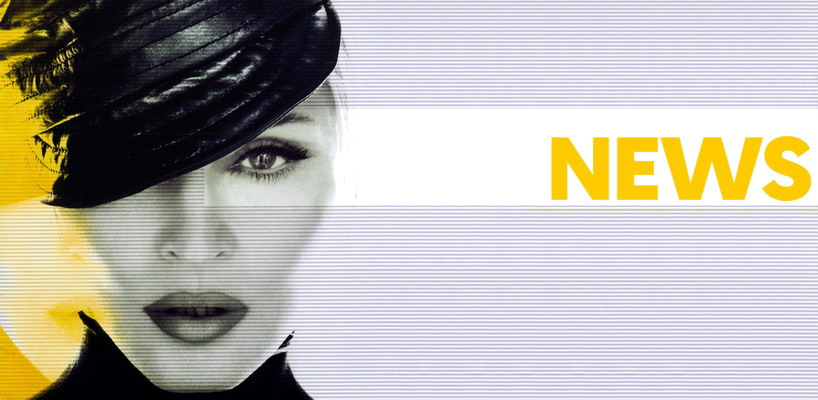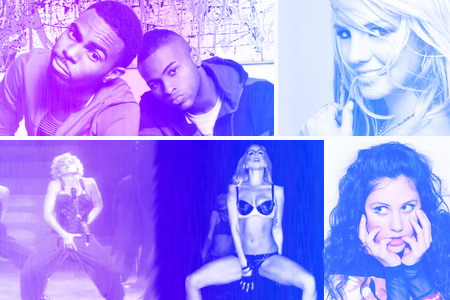 The Jackie Boyz' Bad Newz
Carlos Battey and Steven Battey, aka The Jackie Boyz, who were part of the team of writers for Madonna's song "Revolver", posted the following on Twitter:
Working on some new stuff for Madonna!
Listening to their recent work with Christina Milian for the single "Memory", we can't help but think this could be a utter disaster.
Jackie Boyz – Memory (feat. Christina Milian) by DJ DECK 5
Britney Spears Covers "Burning up"
Britney Spears has recorded her own version of Madonna's Burning up. The song originally intended for the "Femme Fatale" album never made the cut, but should be included on the setlist of her upcoming Femme Fatale Tour.
The 3:19 long song has a slight dubstep feel to it and also includes a small instrumental-portion, probably for Britney Spears' dance moves.
Even though this cover doesn't have the sexy vibe of the Madonna original, it's actually quite good.
Burning Up (Snippet) – Britney Spears by HSDElliot
More GaGaDonna Drama
The Black Keys drummer Patrick Carney is being attacked by an army of "Little Monsters" via Twitter. The Ohio-based musician has been receiving scores of angry tweets responding to his posts comparing Lady Gaga to Madonna.
Carney tweeted on June 5…
"I still can't get over madonna's performance at the grammy's this year! She was born that way!"
Last month, he wrote of Gaga's Saturday Night Live gig,
"Madonna is killing it!"
Gaga fans responded with a torrent of angry tweets.
MTV reports…
"All day Monday (June 6), Carney's Twitter account was nothing but a stream of profanity-laced, poorly-punctuated vitriol from Little Monsters, who called him 'an ugly ass bitch,' compared him to 'the kid in the wheelchair on Glee' and even threatened him with bodily harm."
Carney's taking the war of the Internet words in stride, pointing out that Gaga's anti-bullying campaign has not been embraced by her own fans,
"@ladygaga your anti bullying message isn't really translating to your little monsters! I'm really depressed. I'm going to @redlobster."
Fueling the GaGaDonna drama, the NY Post recently published the following…
From her lyrics, to her sound to her video visuals, Lady Gaga has repeatedly found herself on the receiving end of "Madonna did it first/better" critiques.
"Alejandro" & "Vogue" offer up the most video examples (this does a splendid job of highlighting the likenesses), but when it comes to music, putting the similarities between "Born This Way" and "Express Yourself" on blast became a national sport.
And whether or not you believe that LaGa took too much inspiration from the icon, you can't deny the two songs sound brilliant together in this DJ Tripp remix that PopWrap's pal Bootie Mashup put on the map.
Eliza Doolittle covers "Material Girl"
English singer–songwriter from London, Eliza Doolittle, created her own version of Madonna's Material Girl together with director David Freymond.
Have a look at the video.
Download the track
Papa Don't Preach New Original Photos
If you have money to spare, then this is for you.
An very interesting auction popped up on eBay, containing 4 original photos from from the VMA award winning music video "Papa Don't Preach", directed by James Foley in 1986.
The photos, shot by Vinnie Zuffante, show Madonna in a park with short hair and a leather jacket.
Check it out
Erika Jayne is a "big fan"
American Dance/Electronica singer/dancer Erika Jayne recently gave an interview to PrideSource to talk about her big gay following, being inspired by Madonna…
Here's what she had to say…
I grew up being a big Madonna fan. Everybody says that, but I would obsess on what she was wearing and what she was doing. Just a big, big fan. Still am. That's my No. 1 girl, for sure.
Everybody does the same thing. Nobody's doing anything that innovative – OK, I mean, if you really want to know the truth. It's all pretty much the same stuff. Everybody says that Gaga does Madonna. I mean, everybody's influenced by each other – it's all good.
Madonna's Stalker in jail fire death bid
Back in March, tabloid newspaper The Sun reported that an alleged stalker was found clutching some of Madonna's possessions after breaking into her £10million London mansion. He was seized and charged with burglary.
Now, they posted that Grzegorz Matlok, the man in question tried to commit suicide by starting a fire in his cell. He was treated in hospital for smoke inhalation and was unhurt during the 3am suicide bid.
Matlok is due to appear at Southwark Crown Court on June 29 when a judge will decide if he is fit to plead.
30 Madonna items Auctionned
Julien's Auctions, the premier auction house in high-end celebrity estate and entertainment auctions, is having a huge auction on June 25th, including over 30 Madonna items.
Have a look for yourself!

Madame X is available in Box Set, CD, Vinyl and Cassette!
Get your copy HERE!