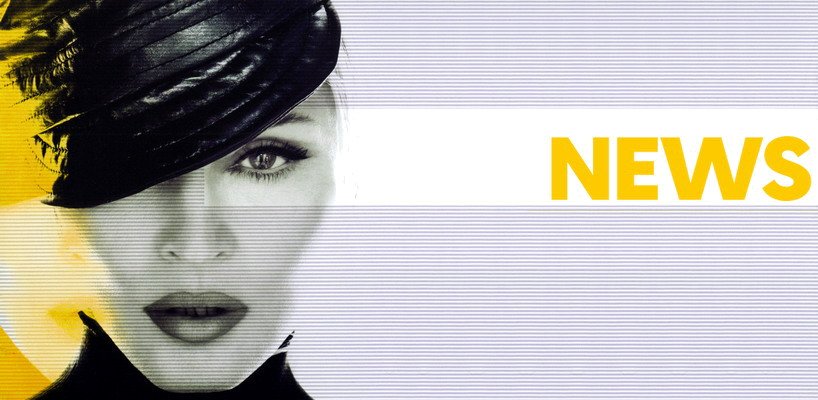 Lykke Li on Madonna and her Success
Swedish indie singer Lykke Li is currently promoting her upcoming album "Wounded Rhymes".
During an interview for the London Evening Standard she also talks about Madonna…
In an early interview, Lykke Li mentioned Madonna's Immaculate Collection being the first cassette she owned and said of her first attempt to make it in music…
"That's why I went to New York when I was 19 – because Madonna did."
It's a quote she now disowns, making a disgusted noise when the journalist dares to bring it up…
"Everybody went to New York – Bob Dylan, Nina Simone – not just Madonna, so of course I wanted to. But being as big as her is the last thing I would want. If I ever got even slightly close I would want to run away and die. I'm not studying the Top 40, I'm studying Joan Baez and wondering how I can be more like her."
Beth Ditto pays homage to Madonna
Gossip singer-gone-solo Beth Ditto pays tribute to Madonna with her latest music video "I Wrote the Book", the first single of her solo EP.
SPIN.com describes it as…
Shot at London's swank Grosvenor House by director Price James (Hercules and the Love Affair, Peaches), the black and white clip finds Ditto primping, being smothered by three male model types in various stages of undress, and dancing to the bubbly atmospherics and bangin' club beats courtesy of her collaborators from Simian Mobile Disco. It takes visual cues from Madonna's "Vogue" and "Justify My Love" clips, and it works.

"I know every trick in the book / Lying… Crying… Heartbreak / I wrote the book," Ditto sings in a deep, lusty croon.
Have a look at the video…



Britney Spears is the gayest
Britney Spears has been voted greatest gay icon of all time in the Orange County Equality Project's poll with 31% of the vote. Madonna came second with 25%, followed by Lady Gaga and Katy Perry, which had respectively 22% and 12% of the votes.
The Equality Project's Joel Waddell says,
"When Madonna puts out a new album, she will be on top again.
Madonna is the greatest icon the gay community has ever had."
Pop Star Fashion Face-off: Madonna vs. Lady Gaga! You Vote!
ETonline is joining the Madonna vs. Lady Gaga debate by launching a "Pop Star Fashion Face-off".
Here's the description:
Its the pop-culture battle of the ages! Madonna or Lady Gaga!? Which pop princess gets your vote!
We know all you Little Monsters love to "Vogue" to the music! But whom do you love best — the Material Girl or the Gaga gal? Now is your chance to make a choice! Take a look at these musical divas' revolutionary fashions — and pick which of their oh-so-similar ensembles is your fave. Cast your vote!
You can join too… HERE !

Carlos Leon Won't Take Acting Tips from Madonna
Carlos Leon, father of Madonna's daughter Lourdes, stars in the new movie "Immigration Tango" and is currently giving some promotional interviews.
He told E! Online that Lourdes is taking drama classes at High School of Performing Arts and hasn't brought home any boyfriends. When she does, he's going to be like one of those tough dads.
AP Entertainment reported that he never asked Madonna any acting tips, but did ask some career advice. Madonna is supportive of everything he does, saying she "comes to the theater when I do theater."
The only downside to having a child with such a prominent celebrity, is that it isn't always easy.
As he puts it: "I can find a cure for AIDS, and every disease possible, and I'll still be associated with Madonna. And that's OK."


Kylie Minogue's Dancer Wants to Work with Madonna
Marco Da Silva, who's been dancing with Kylie Minogue for the last five years, is currently concentrating on his career as a DJ.
During an interview for SameSame, Australia's #1 gay and lesbian lifestyle website, he was asked if there was anyone who he'd put his own career ambitions on hold for…
"There is only one artist that I would really halt my DJing for… That's Madonna. I've danced for Kylie and while it's amazing, it doesn't hold a new challenge for me. To dance for Madonna has always been a dream of mine… it's a dream job for any dancer to dance for Madonna. I know she would really push my boundaries. I will never give up on that dream and it's one I would still love to fulfill."