You took pictures, videos or just want to tell us about your Rebel Heart Tour experience, do not hesitate to send us an email at [email protected]
—
PRESS PICTURES
FAN VIDEOS
by Jaime Monzon:
by vjsatx:
by Freddie Avalos:
by Juan Ramos;
FAN PICTURES
by Brightest Light – Mary: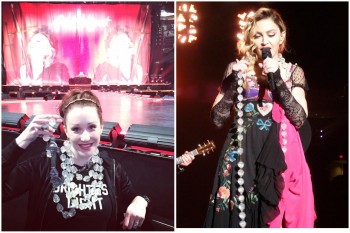 by Yahoo: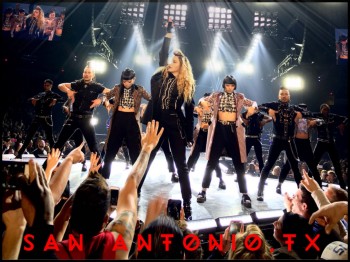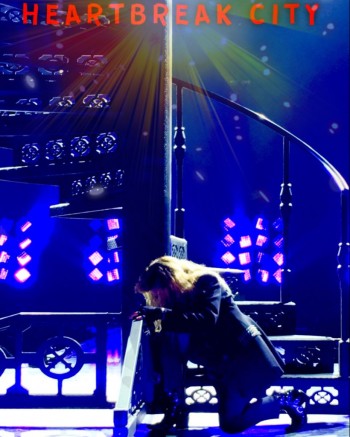 CREW PICTURES
REVIEWS

Madonna's rebel heart burned brightly until the wee hours Sunday at the AT&T Center at her first-ever San Antonio concert appearance.
About 15,000 fans, some of them dressed like the Material Girl circa 1984, waited patiently through an overly long DJ set for Madonna to finally hit the stage at 10:30 p.m. (the show was scheduled for an 8 p.m. start) and stayed until the very end which was a few minutes before 1 a.m.
The imaginative two-and-a-half hour show was 21 songs of pure Madonna with lots of help from a supporting cast of acrobatic dancers whose choreographed stunts, at times, upstaged the star.
Madonna's entrance was spectacular with the artist descending onto the massive Rebel Heart Tour stage and runway in a gothic cage right into a horde of dancers dressed as Samurai warriors to sing "Iconic."
She is incredibly fit, and showed it with gyrating dance moves with her feet on the ground and other times singing while hanging upside down on props or riding on her dancers' shoulders.
The San Antonio set list and costume changes diverged little from other tour dates, though Madonna seemed especially playful and loose – and provocative.
During "Holy Water," Madonna danced and pole danced on a crucifix-style pole with scantily-clad female dancers wearing nuns' religious habits.
Various sections of the show were separated by video interludes and dance troupe routines.
Some of the simpler moments were best. For example, "True Blue" performed on ukulele and delivered in garb inspired by the '50s.
The dramatic "HeartBreakCity" (and "Love Don't Live Here Anymore") served as intro to "Like a Virgin," slightly slower and with a heavier modern beat.
None of Madonna's early hits were delivered with original instrumentation or arrangements. She opted to give them a Latin flavor or modern electronics. For example, "Dress You Up" came dressed with the same driving acoustic guitar feel as "La Isla Bonita."
The same was true for "Into the Groove" and "Lucky Star."
Madonna toyed with fans at the foot of the runway, even throwing a small bouquet of flowers. She was in good humor throughout.
The most rocked up, satisfying arrangement came with "Music," which added a jolt of energy. A "Deep in the Heart of Texas" moment fell a little flat, but Madonna added a sexual edge. "Material Girl" lumbered with a heavy, if somewhat lethargic beat.
She closed with "Unapologetic Bitch" and returned for an encore, "Holiday," performed in yet another costume, this one with a patriotic flair.
The highlight of the night: Madonna's throwback, steeped-in-irony dancing during "Like a Virgin," which when paired with the heavier beat, looked almost cathartic.
At 57, Madonna remains a goddess of pop for the ages – talented, intelligent, imaginative and determined not to stagnate.
The rebel heart beats strong.

Madame X is available in Box Set, CD, Vinyl and Cassette!
Get your copy HERE!
comments powered by

Disqus