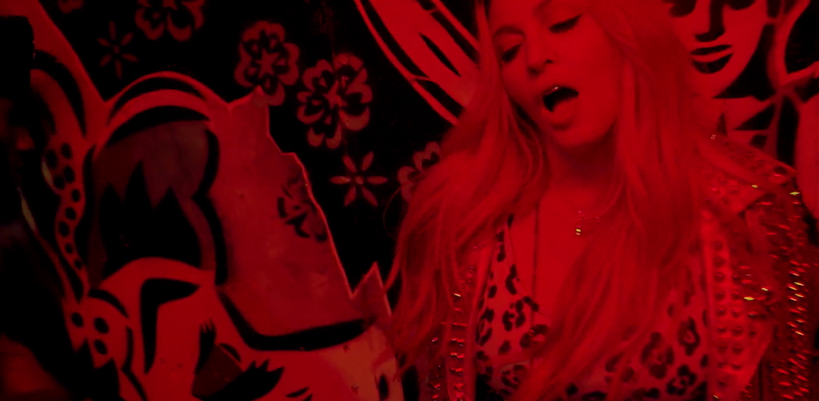 Update #20: Billboard Hot 100
Despite the absolute lack of support from US Radio stations, Madonna's Bitch I'm Madonna manage to remain in the Billboard Hot 100 at #95 (-11) for a second week, based only on streaming.
The video has also been played over 30 million times on Youtube.
—
Update #19: "Bitch, I'm Madonna" and "Devil Pray" sent out to radio
Universal Music France confirms that both "Bitch, I'm Madonna" and "Devil Pray" have been sent out to radio.
Madonna's third single "Bitch, I'm Madonna" is directed towards the younger generations, while they hope "Devil Pray" will be hit amongst her older fans.
No video for "Devil Pray" has been planned for now, because Madonna is currently in rehearsal mode for her upcoming Rebel Heart Tour.
—
Update #18: Madonna scores a re-entry on Hot Dance/Electronic Songs
Madonna scores a re-entry on Hot Dance/Electronic Songs with "Bitch I'm Madonna" at No. 5. The track, featuring Nicki Minaj, is Madonna's first top five hit and second top 10 since the chart's Jan. 26, 2013 launch.
The new single boasts sales of 13 000, up 1 703 percent, good for a No. 6 re-entry on Dance/Electronic Digital Songs. It also garnered 2.6 million U.S. streams (up 1 454 percent, with 81 percent stemming from Vevo on YouTube views), granting Madonna her first appearance on Dance/Electronic Streaming Songs (No. 5).
On Dance Club Songs, "Bitch I'm Madonna" enters at No. 26, kicking off its bid to become the third No. 1 from her album Rebel Heart, following "Living for Love" and "Ghosttown."
—
Update #17: Madonna returns to Billboard's Hot 100
Madonna's new single "Bitch I'm Madonna (featuring Nicki Minaj)" arrives on this week's edition of the Billboard Hot 100, powered most heavily by its 1,454 percent gain to 2.6 million U.S. streams in the week ending June 21, according to Nielsen Music.
The track starts at #84 on the listing, which accounts for sales, streaming and radio activity.
While lead album single "Living for Love" reached the "Bubbling Under Hot 100? chart, "Bitch" is the first "Rebel Heart" track to reach the actual Hot 100.
It's Madonna's first single to chart on Hot 100 since "Give Me All Your Luvin'" in 2012.
—
Update #16: Bitch I'm Madonna (Sander Kleinenberg Rebitch)
—
Update #15: Full Video
—
Update #14: Fashion Credits
Madonna is premiering the music video for "Bitch I'm Madonna" today on Tidal. The video, the third from her critically acclaimed 13th studio album REBEL HEART, is available to view exclusively by Tidal subscribers for 24 hours. Following its premiere on Tidal, the video will be available on Madonna's VEVO page.
Featuring guest stars: Beyoncé, Miley Cyrus, Diplo, Nicki Minaj, Katy Perry, Rita Ora, Chris Rock and Kanye West along with fashion designer Alexander Wang and Madonna's sons Rocco and David, the "Bitch I'm Madonna" video was shot on the 17th floor at Andre Balasz's Standard Highline hotel and in its clubs the Boom Boom Room and Le Bain.
Jonas Åkerlund, who has directed several of Madonna's videos including the already classic and current "Ghosttown", "Music" and "Ray of Light", directed the video. It was styled by Arianne Phillips who is one of Madonna's longtime stylists and was the costume designer on Madonna's film W.E. as well as last five Madonna Tours.
A complete list of Madonna's wardrobe can be found below. Other credits include: Megan Lawson and Kevin Maher for choreography, Andy LeCompte for hair and makeup by Aaron Henrikson.
Main Look
Leopard dress: MOSCHINO
Custom Leather Jacket: DISCOUNT UNIVERSE
Threat Hat: SSUR
Whistle: CHANEL
Gloves: MAJESTY BLACK
Jewelry: LYN BAN
Shoes: GUISEPPE ZANOTTI
Second Look
Blue Silkscreen Shirt Custom Madonna / Marilyn T-Shirt: TOMTOM FASHIONS
Hat: ADEEN!
Shoes: PRADA
Pink Gloves: GASPAR
Large Silver Ring: CHRIS HABANA
Rings: LYN BAN
Cuff: EDDIE BORGO
—
Update #13: Behind The Scenes Video
Check out our Instagram HERE for more #BitchImMadonna hype!
—
Update #12: New "Good Morning America" teaser
Good Morning America just aired this new teaser…
—
Update #11: Second Video Teaser
Madonna just posted the second official video teaser of "Bitch, I'm Madonna"!
Butches its coming Tomorrow!! Who do you think you are?? BitchImMadonna Premiering Tuesday morning!!

Madame X is available in Box Set, CD, Vinyl and Cassette!
Get your copy HERE!
comments powered by

Disqus