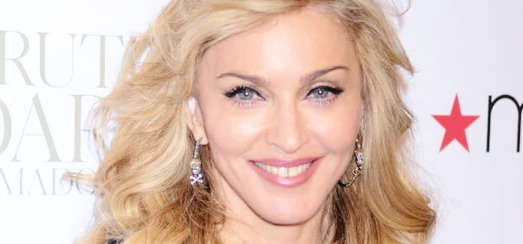 After her appearance at Macy's Herald Square on Thursday night, in support of her "Truth or Dare" fragrance, Madonna sat down with WWD for an exclusive interview and talked about her upcoming projects…
On the tour requiring some physically intense moves…
I've got a big old cut on my leg.
I take these clothes off, and I'm covered in bruises.
It's very sexy.
Wait and see… it will be intense.
It's crunch time for me getting my show ready, so after this [interview] I have to go back to the dungeon.
I call it the dungeon, where we work.
In a room with no light.
It's kind of our factory, but I have a lot of work to do.
On touring and fashion…
I worship and adore [Jean Paul Gaultier].
He's creating one of my costumes, and kind of godfathering the costumes for a section of my show, with all my dancers.
I'm really happy he's doing it, because he's such a genius.
And I'll probably wear something that Riccardo [Tisci] from Givenchy makes.
But the rest of it is going to be what my costume designer Arianne Phillips creates with me.
On the Super Bowl show…
One of my most favorite and most treasured performing experiences, for sure. That was amazing.
The dance that LMFAO does, the shuffle, was really hard to do in heels. I have to say, I would prefer to do the shuffle in sneakers. If you want to drop it like it's hot, it's good to wear flats, because then your booty gets really close to the floor, but then there are things you can do in heels that you can't do in sneakers.
On her perfume "Truth or Dare by Madonna"…
I don't take the job of creating anything — whether it's fragrance, or beauty products, or clothes — lightly, and I need a lot of time to do stuff.
I don't like it when other people create for me.
The time was right, I've been working off and on on various fragrances over the years, and [have been] approached by a lot of companies and have tried to create fragrances.
They were always abandoned projects.
I've always loved perfume; it's always been a big part of my life. But every time I tried to create the scent I was looking for, it never reached the stage where I thought it was good enough or I was told that the ingredients would be impossible to re-create in a mass way.
Then I'd say, "let's try and do a synthetic version," and it never smelled as good as I wanted it to.
And if I'm not going to wear it, I'm not going to sell it.
So, I finally was able to create, with my partners [MG Icon and Coty], a fragrance that I could stand behind.
We tested a lot of things over the past few years, and [Lourdes 'Lola' Leon, her 15-year-old daughter] has told me what she likes.
She is a very opinionated young lady, and she likes this perfume.
On controversy surrounding the sexy TV campaign for "Truth or Dare"…
I don't understand. It was perfectly innocent.
I just touch my cleavage once or something.
I think it's dreamy and sensual, and I think it perfectly conveys the feeling I'm trying to evoke with the perfume.
It's a perfume for a woman.
On extending her Truth or Dare franchise into additional categories…
Once again, time-consuming.
I want it to be good.
[More beauty categories are] something I'd like to develop, but I need to get past all of my other responsibilities and commitments like my tour.
So, sometime in the future, yeah.
On doing a men's fragrance…
Sometime next year.
I think it would be good to do a men's fragrance, as well.
My daughter thinks so.
She wants to wear it.
She likes to wear men's cologne — don't ask me why.
I love musk and amber and woody kind of fragrances on men.
I love the smell of whiskey — we should make a men's cologne that smells like whiskey.
I can't drink it, it's too strong, but it smells amazing — a really good old whiskey.
On talking to her fans at Macy's…
That was fun — I like talking to my fans.
They're real.
I can play with them and have a laugh.
Based on article from WWD by Julie Naughton

Madame X is available in Box Set, CD, Vinyl and Cassette!
Get your copy HERE!