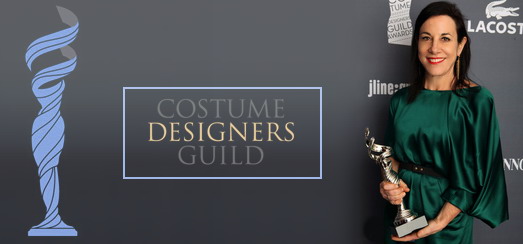 Arianne Phillips a été une des grandes gagnante lors des 14ème Costume Designers Guild awards qui se tenaient au Beverly Hilton Hotel mardi soir…
Alors que Jane Lynch, hotesse de la soirée, faisait son entrée sur Vogue de Madonna, elle a présenté la styliste de Madonna, Arianne Phillips gagnante de la catégorie « Excellence in Period Film ».
Arianne était en compétition avec Mark Bridges (« The Artist »), Michael O'Connor (« Jane Eyre »), Sharen Davis (« The Help ») et Sandy Powell (« Hugo »).
W.E., qui alterne des scènes des années 20 et 30 avec des séquences contemporaines, est le seul gagnant à être également en compétition aux Oscars, cette année.
La costumière Marlene Stewart a également remporté un « Disaronno Career Achievement Award » pour sa carrière avec un CV qui inclut les choix de styles des vidéos musicales de Madonna telles que Like A Prayer, Material Girl et Express Yourself.